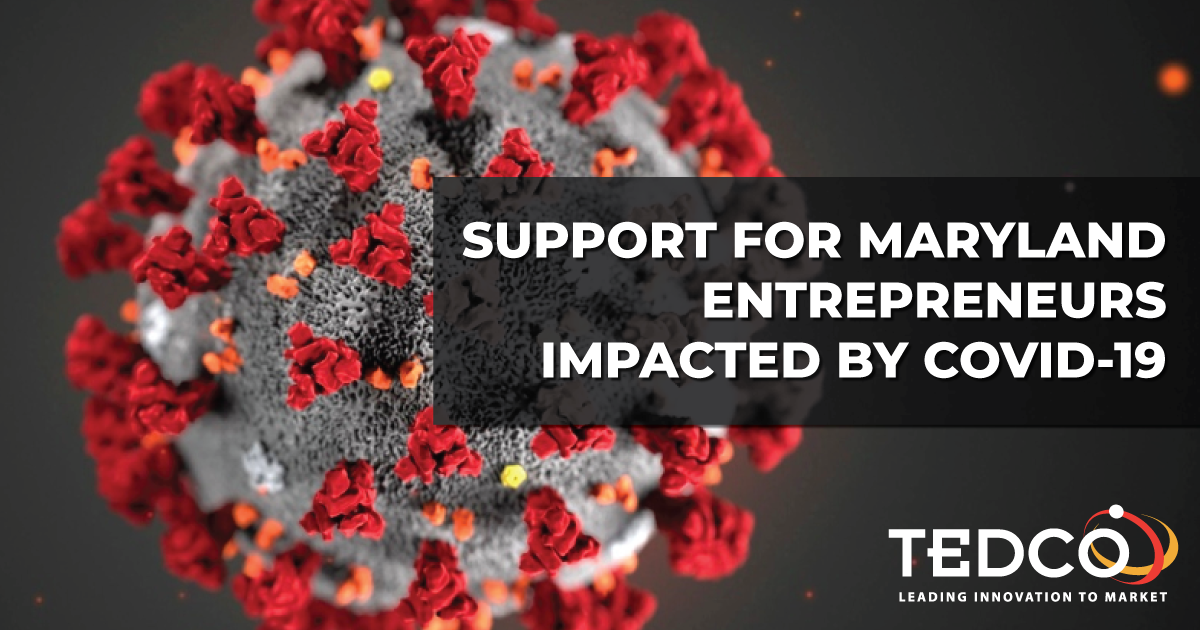 The resources on this page are presented as a courtesy to help you navigate the various business support services established for COVID-19 relief.  To apply for or obtain services from a particular agency or program, you will need to apply through that program's or agency's website.  TEDCO cannot guarantee eligibility or success in applying to or using a program's or agency's resources. Each individual program and agency will determine your eligibility when you apply. While updates to the page are being made regularly, due to the ever-changing nature of these programs and agencies and state, federal, and local laws during the COVID-19 crisis, this page may not be all-encompassing.  Any information you share with any program or agency will be subject to the laws governing that program or agency and that program's or agency's policies, procedures and rules.    
MARYLAND RESOURCES
---

Maryland.gov
Maryland COVID-19 Information for Businesses.
---

Maryland Department of Commerce
Maryland COVID-19 Emergency Relief Fund Programs for Businesses.
Best practices for Maryland companies going back to business. 
---

Maryland Emergency Management Agency (MEMA)
Information for small businesses.
---

Maryland Department of Labor
Layoff Aversion Fund for COVID-19.
---

Comptroller of Maryland
Clarification on the Tax Extension for Maryland.
---

Maryland Department of Health
Updates on the COVID-19 response in Maryland, as well as a documentation of cases in the state.
---

Maryland Department of Education
Information for COVID-19, including state-funded childcare for essential personnel.
---

Maryland Manufacturing Network
TEDCO applauds the efforts of MD manufacturers to make their resources available to help address the urgent COVID-19 crisis, but does not endorse any of the goods or services they may supply.  
---
Maryland Business Relief Wizard
---

TEDCO Resources
Resources to help entrepreneurs in Maryland.
Watch video about TEDCO's programs, funding opportunities and how to stay connected:
FEDERAL RESOURCES
---
 CARES Act
Find resources and loans available to businesses enacted through the Coronavirus Aid, Relief, and Economic Security Act (CARES Act).
Tax Savings Opportunities from the CARES Act
Loan Resources: EIDL and CARES Act Provisions
---
US Chamber of Commerce
---

Center For Disease Control and Prevention (CDC)
Interim Guidance for Businesses and Employers to Plan and Respond to Coronavirus Disease 2019.
---

US Small Business Administration (SBA)
COVID-19 Guidance and resources for small businesses.
SBA Economic Injury Disaster Loan (EIDL) and CARES Act Provisions
---

National Institute of Health (NIH)
COVID-19 Resources for Applicants and Recipients of NIH Funding.
COVID-19 additional information.
---

National Science Foundation (NSF)
Coronavirus Information from NSF
---
Occupational Safety and Health Administration (OSHA)
Guidelines for businesses and employers for COVID-19