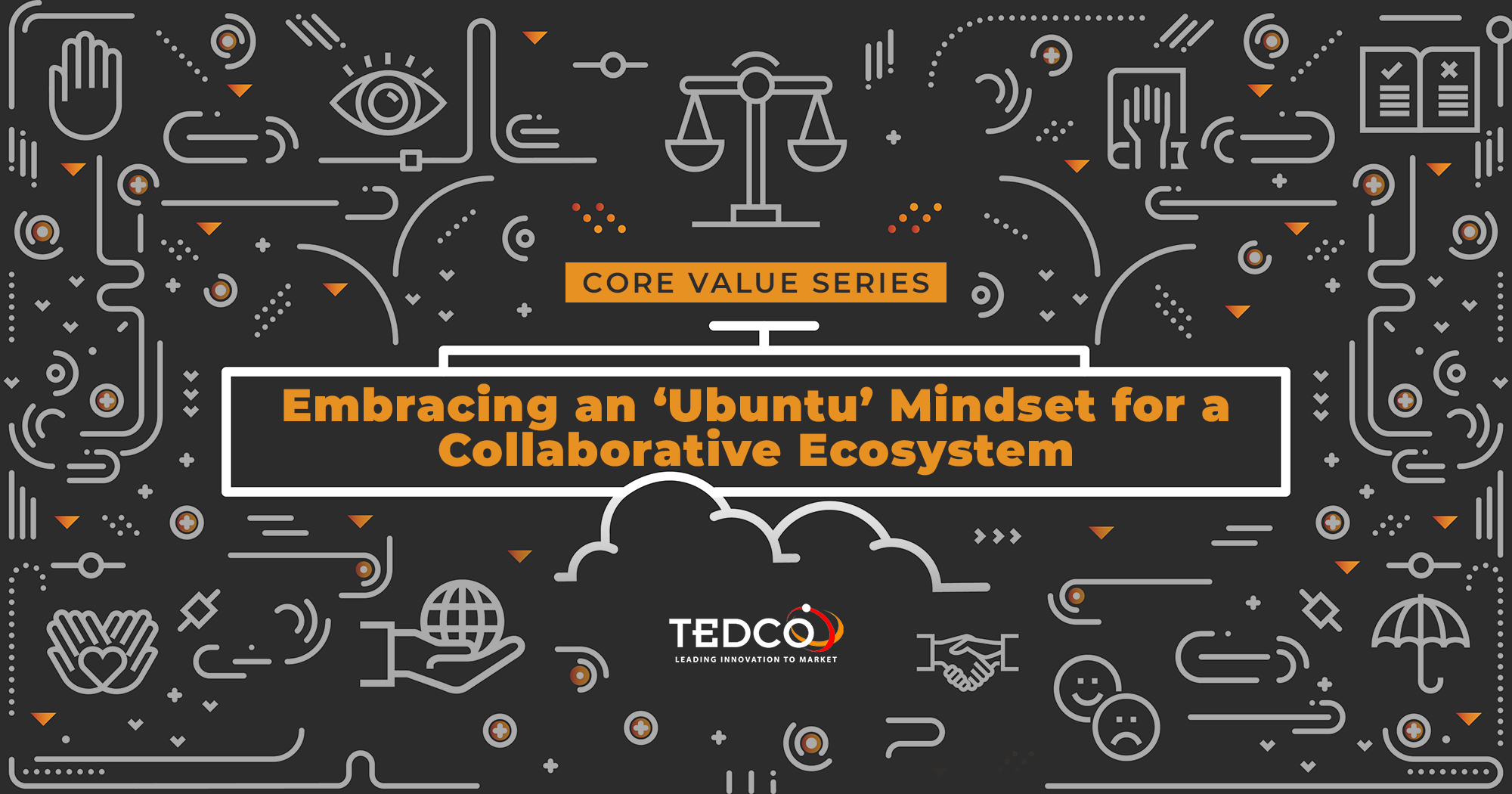 When I was asked to write about TEDCO's core value of collaboration, the word that immediately came to mind was "ubuntu." Ubuntu is a Zulu word that Archbishop Desmond Tutu defined as "My humanity is caught up, is inextricably bound up, in what is yours." In the simplest terms, ubuntu means, "I am because we are."
 
Scholars of African studies and philosophy state that ubuntu is actually an intentionally vague term, similar to the Sanskrit word "namaste" (which loosely translates to "the divine light within me bows to the divine light within you"). Like namaste, ubuntu is much more than just a word—it's a philosophy, a world view, and a framework for how we relate to and work with others.
 
While the concept of ubuntu has spiritual connotations, it has practical applications as well. As a socio-economic ideology, ubuntu encourages equity and equality as a means of generating shared wealth, promotes collective responsibility for the greater good, and fosters appreciation for each individual's unique talents.  
 
At TEDCO, ubuntu manifests itself primarily in our core value of collaboration: "We focus on building trust and credibility across the organization and with our customers. We are transparent in the exchange of ideas and our encouragement of one another. We value teamwork in our pursuit of supporting innovation and entrepreneurial excellence." Driven by this value, we embody ubuntu both internally and in our service to Maryland's diverse entrepreneurial community. 
 
Collaboration serves as the foundation upon which TEDCO has helped build the state's thriving entrepreneurial ecosystem since our founding in 1998. Over the last 22 years, our team has tapped into the power of partnership to identify opportunities to strengthen the state's economy, provide valuable resources to entrepreneurs, and cultivate an environment that is open to innovation, creativity, and diversity. Without this group of like-minded, passionate people working together toward shared goals, TEDCO simply wouldn't exist—and the state's entrepreneurial ecosystem would be nothing more than a great idea.
 
TEDCO has worked hard to knit together an entrepreneurial ecosystem that connects like-minded entrepreneurs, subject matter experts, academics, legislators, and business leaders from all corners of the state. Together, we have woven in diversity of thought, variety of skills, and myriad needs of our citizens to build a vibrant tech-based entrepreneurial community that's consistently ranked in the top five in the United States.
 
A tangible example of successful collaboration in the spirit of ubuntu is the Maryland Innovation Initiative (MII), which brings together universities—public and private, large and small—with the goal of leveling the playing field for technology commercialization. While equality doesn't always lead to equity (we certainly have more work to be done in this area), we have embraced the ubuntu principles of community and collaboration to significantly impact the entrepreneurial cultures at Maryland's universities. Collectively through this program, we have de-risked over 250 technologies, created 100 startups and attracted over $530 billion in investments.
 
During challenging times such as the ones we are living in now, it's more important than ever to embrace ubuntu in spirit and in practice. Through collaboration, we can overcome challenges, find solutions, and empower Maryland's entrepreneurs to transform their ideas into vital businesses that will expand wealth and improve quality of life for our state's residents and beyond.  
Dr. Arti Santhanam (asanthanam@tedco.md) is the Executive Director, Maryland Innovation Initiative at TEDCO. 
Source: Leadership Maryland Blog
See what Collaboration means to the TEDCO team