From left: Annastasiah Mudiwa Mhaka, Mawambo; Michael Willis, Kaiser Permanente; Alexander Antoniou, Humanim; Kolaleh Eskandanian, Children's National Hospital;  Arti Santhanam, TEDCO
"Everything started as nothing."
– Ben Weissenstein, founder and CEO The Entitled Group
There is a first time for everything, and entrepreneurs are the ones willing to make that first time happen. But making that first time happen isn't easy, and that is surely an understatement. Being an entrepreneur means shouting out to anyone who will listen that their vision addresses a pressing issue, creates economic value and/or answers an unasked question. The "thrill" of being "the founder" must be balanced with the "trials" associated with the lack of time, talent and treasure.
Looking at these statistics from the SBA (pre-COVID)…
In 2019, the failure rate of startups was around 90%. Research concludes 21.5% of startups fail in the first year, 30% in the second year, 50% in the fifth year, and 70% in their 10th year.
With such overwhelming odds, why be an entrepreneur?
"When I'm old and dying, I plan to look back on my life and say 'wow, that was an adventure,' not 'wow, I sure felt safe.'"
– Tom Preston-Werner, co-founder Github
"Risk more than others think is safe. Dream more than others think is practical."
-Howard Schultz, Starbucks CEO
The answer – because entrepreneurs have a vision of what can be and not a view of what is. They are willing to place a bet on themselves and that vision, though others may be limited by their own view. But to make that happen, most first-time entrepreneurs need help. An entrepreneur needs at least one person/entity to believe in that vision over the perceived view. And this is the role of TEDCO.
As stated before, entrepreneurs at the early stage lack access to time, talent and treasure (the "3Ts"). TEDCO's role is to help give them back a minute, introduce a diverse pool of potential employees and provide the map to "X marks the spot" of fiscal and non-fiscal resources.
"Entrepreneur is someone who has a vision for something and a want to create."
– David Karp, founder and CEO Tumblr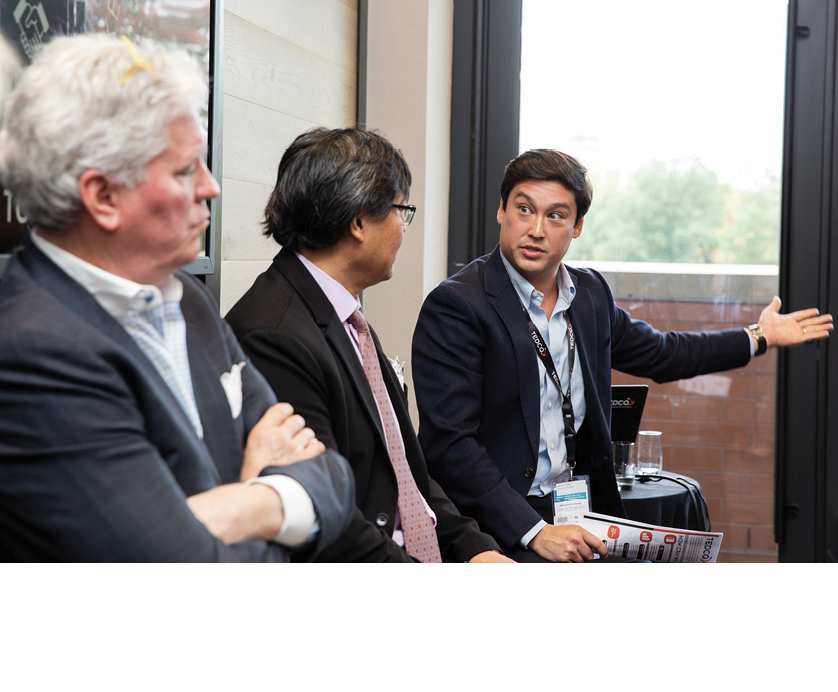 TEDCO's role is to address the 3Ts via funding vehicles investing in both research and early-stage opportunities to ensuring the foundation of Maryland's ecosystem is ready and available:
Via our Maryland Entrepreneur Hub (in beta), we give our entrepreneurs back a minute by bringing resources to them versus using the little time available searching for those resources;
Via our Network Advisors, Prelude Pitches, R/UBII (or RUBII), Entrepreneur Expo, and soon-to-be-launched Talent Portal, we create opportunities for attracting orbits that would not otherwise collide to create new access to talent and new celestial (or at least Maryland-based) bodies;
Via our MSCRF, MII, Pre-Seed Builder, Seed and MVF funds, along with market databases, Federal programs, incubator/accelerator access and all the 
aforementioned tools, we provide pathways to both TEDCO and ecosystem resources that are necessary and sufficient for an entrepreneur's success.
But addressing the 3Ts – time, talent and treasure – with funding and foundation is not enough for either our entrepreneur's success or Maryland's goal as a leader in innovation and entrepreneurship. In my short time at TEDCO, I am truly impressed by the commitment of our TEDCO team and the energy and engagement of the entire Maryland ecosystem. Both of those have led to the latest ranking by WalletHub's showing Maryland as the #4 Most Innovative State, with our neighbors DC #2 and Virginia #5. While we should be proud of this ranking we should not be satisfied with this rank. 
Estimates so far indicate the virus reduced global economic growth to an annualized rate of -4.5% to -6.0% in 2020, with a partial recovery of 2.5% to 5.2% projected for 2021. According to a consensus of forecasts, the economic downturn in 2020 was not as negative as initially estimated, due, at least in part, to the fiscal and monetary policies governments adopted in 2020.
– Congressional Research Office, 17Jun21
Emerging from the economic damage done by COVID will require not just fiscal stimulus but an increased focus on innovation and entrepreneurship. COVID has opened not only the door for racial and social justice issues but exposed that talent does not have to be located near the firm developing that innovation. As we emerged from the 9/11 tragedy with innovations in facility and travel security, we will also emerge from COVID with new entrepreneurial opportunities keeping us safe, allowing more efficient and effective global teams, and delivering even more from e-commerce, amongst many other innovations. 
For Maryland, that innovation will be in historic areas like cybersecurity, robotics and life sciences, as well as in areas such as clean/blue-tech, agri/aqua-tech (and urban ag), UAV/UAS, and of course quantum. That innovation will also include the integration of these areas as well. Think how much more secure we can make our computing systems when they are protected by quantum-based cyber systems. How much better we can protect our food supply with cyber ag systems (also based on quantum)? And how much faster can we develop the next vaccine with quantum infused life sciences research?
The innovation game highlighted by WalletHub's ranking is very much akin to a team sport whose goal is to not just be competitive but to win championships. Yes, that was plural, championships. Having a team that can be positioned to win requires a constant investment in talent and training. A constant focus in not allowing the status quo to be the bar. For Maryland to meet this and other goals, will require a fundamentally higher level of investments and an ecosystem that is more integrated and coordinated. As a computer scientist, I learned that great software development happens via a product roadmap that follows a technology and market-based approach to each version of the software released. The Excel Maryland report laid out such a "product roadmap" for Maryland. COVID has only amplified the need for the report's recommendations. 
Said another way, addressing the next iteration of Maryland's innovation (Maryland rev x.0), will necessitate a new means to ensure Maryland's funding vehicles and foundational elements reach a fundamentally different level of SCALING and SEWING. Many of the states in the WalletHub ranking are investing billions (SCALING) in various funding platforms and support tools to attract and retain both the talent and the firms they believe are the competitive future (SEWING). 
Maryland must do the same. We must SCALE AND SEW our FUNDING and FOUDATIONS such that our entrepreneurs:
Invest quality TIME on leveraging talent and treasure into world-class Maryland-based innovative firms;
Combine Maryland's deep and diverse TALENT along with its immense set of treasures such that the most precious resource, time, is leveraged to its fullest; and
Discover the "X" marking the TREASURE chest necessary to ensure time and talent are focused on making Maryland be the home for market-leading 1st times.
Let's SCALE and SEW…
Source: I95 Business Magazine