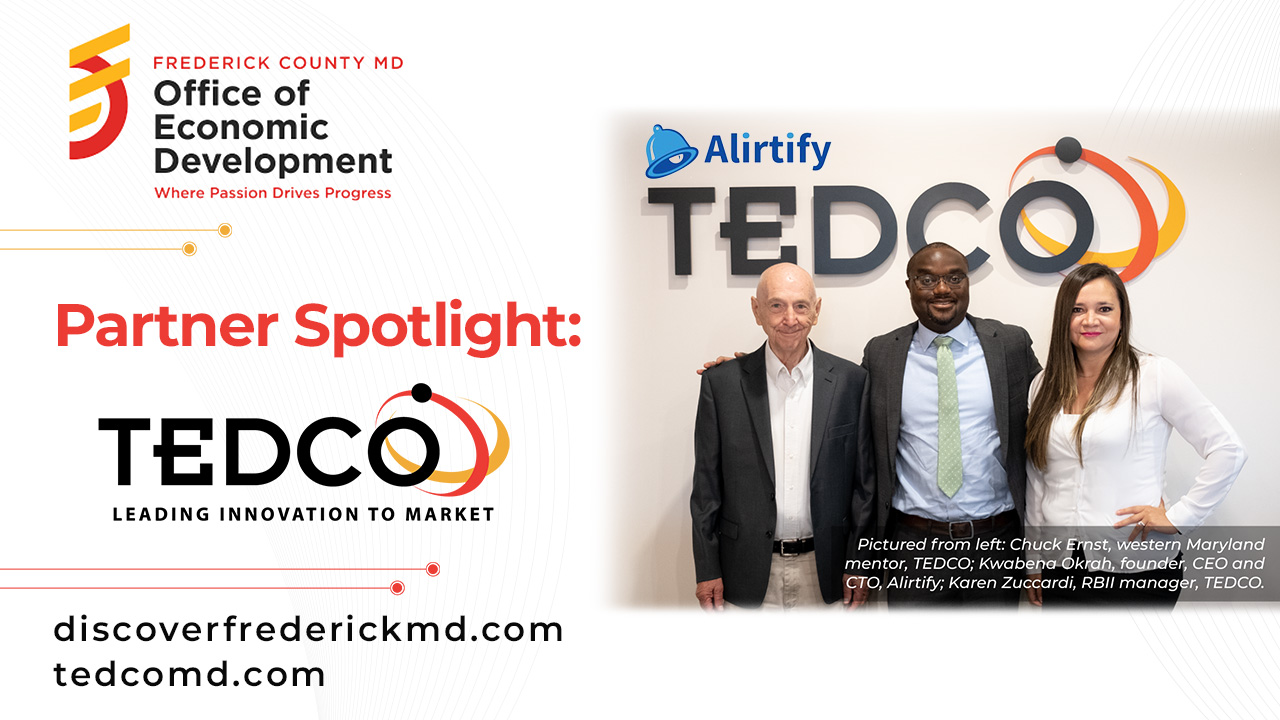 What is TEDCO?
TEDCO, the Maryland Technology Development Corporation, enhances economic empowerment growth through the fostering of an inclusive entrepreneurial innovation ecosystem. We identify, invest in, and help grow technology and life science-based companies in Maryland.
Funding opportunities are offered through TEDCO's various funds and programs, including the Maryland Innovation Initiative Fund (MII), the Maryland Stem Cell Research Fund (MSCRF), the Federal Technology Transfer Initiative (FTTI), Pre-Seed Social Impact Funds, the Pre-Seed Rural Business Innovation Initiative Fund, Seed Funds, and Venture Funds.
Along with these funding opportunities, companies can access an array of valuable business resources. Those include Network Advisors, the Start-up Orientation Forum, the Rural Business Innovation Initiative, the Urban Business Innovation Initiative, Market Search Databases, Prelude Pitch, Roundtables, online educational tools, a marketing toolkit, and the Maryland Entrepreneur Hub.
Why does TEDCO exist?
The Maryland legislators who created TEDCO understood that start-ups with strong products and talent can still struggle if they're unable to access funding or resources needed to grow their companies. That's where TEDCO comes in: it offers the contacts, advice, money, and tools that early-stage technology and life sciences businesses need to succeed in Maryland.
Over the last 24 years, TEDCO has provided significant value to the state's start-up community by supporting over 10,400 Maryland jobs and generating more than $2.3 billion in statewide economic activity as of 2021. Learn more by visiting us at tedcomd.com.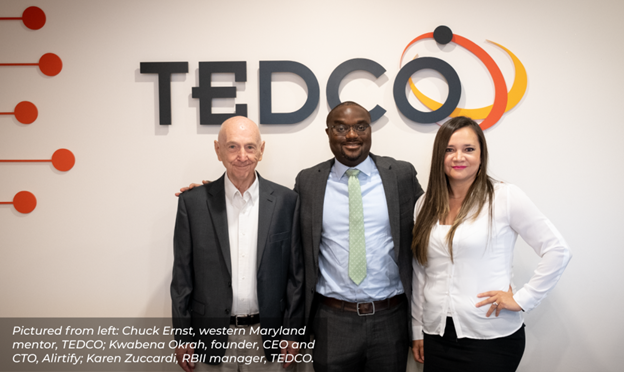 How can TEDCO help small businesses in Frederick County?
Small businesses that work in the technology and life sciences space should visit TEDCO's website to explore an array of funding opportunities and resources for entrepreneurs. TEDCO's Rural Business Innovation Initiative (RBII) is particularly noteworthy for Frederick County businesses, as it's designed to enhance technology commercialization and provide technical and business assistance to small and early-stage companies in rural Maryland.
TEDCO's RBII mentors are located throughout the state of Maryland, providing support to early-stage entrepreneurs. These mentors evaluate potential clients and offer resources, consulting services, and technical management assistance. TEDCO's RBII mentor for Frederick is Karen Zuccardi. Zuccardi, who serves as a mentor for the Northern region of Maryland, is bilingual and available to work with Latino entrepreneurs who prefer to converse in Spanish.
The TEDCO team understands that innovators are hard at work in every Maryland county, including Frederick County, part of a thriving biohealth region and home to talented tech entrepreneurs. As one example, TEDCO recently announced that RBII made a $25,000 investment in Alirtify, an intelligence-gathering platform based in Frederick.
What are some helpful resources you wish more business owners knew about?
Local businesses can greatly benefit from outreach to their county economic development teams and state-supported organizations like TEDCO. We just may have the answer to the problem that's on their minds. It is important to stay current, as we're often expanding, adding to or updating our resources and funding. An easy way for Frederick County entrepreneurs to stay up to date is to sign up for TEDCO's newsletter. It offers the latest news on innovation and entrepreneurship in Maryland, from new funding to networking opportunities. In September that included TEDCO's free tech fair for entrepreneurs, which was recently covered in Maryland Inno.
What is one piece of advice you have for someone starting a business?
Entrepreneurs are almost always risk-takers. So take some risks and leave the lab or your computer for some essential networking. Don't know where to start? Follow organizations that support your type of work and attend one of their online forums or an in-person networking event. Explore mentorship opportunities like RBII; that first outreach by Alirtify's founder led to a TEDCO investment in the company. Just be sure to come prepared to talk about your product—you may get the chance to connect with a future funder or advisor!
How can business owners reach out to you?
Explore our website at tedcomd.com to find the right program and contact for your business. Frederick County entrepreneurs can learn more about TEDCO's Rural Business Innovation Initiative (RBII) and contact mentor Karen Zuccardi at kzuccardi@tedco.md.