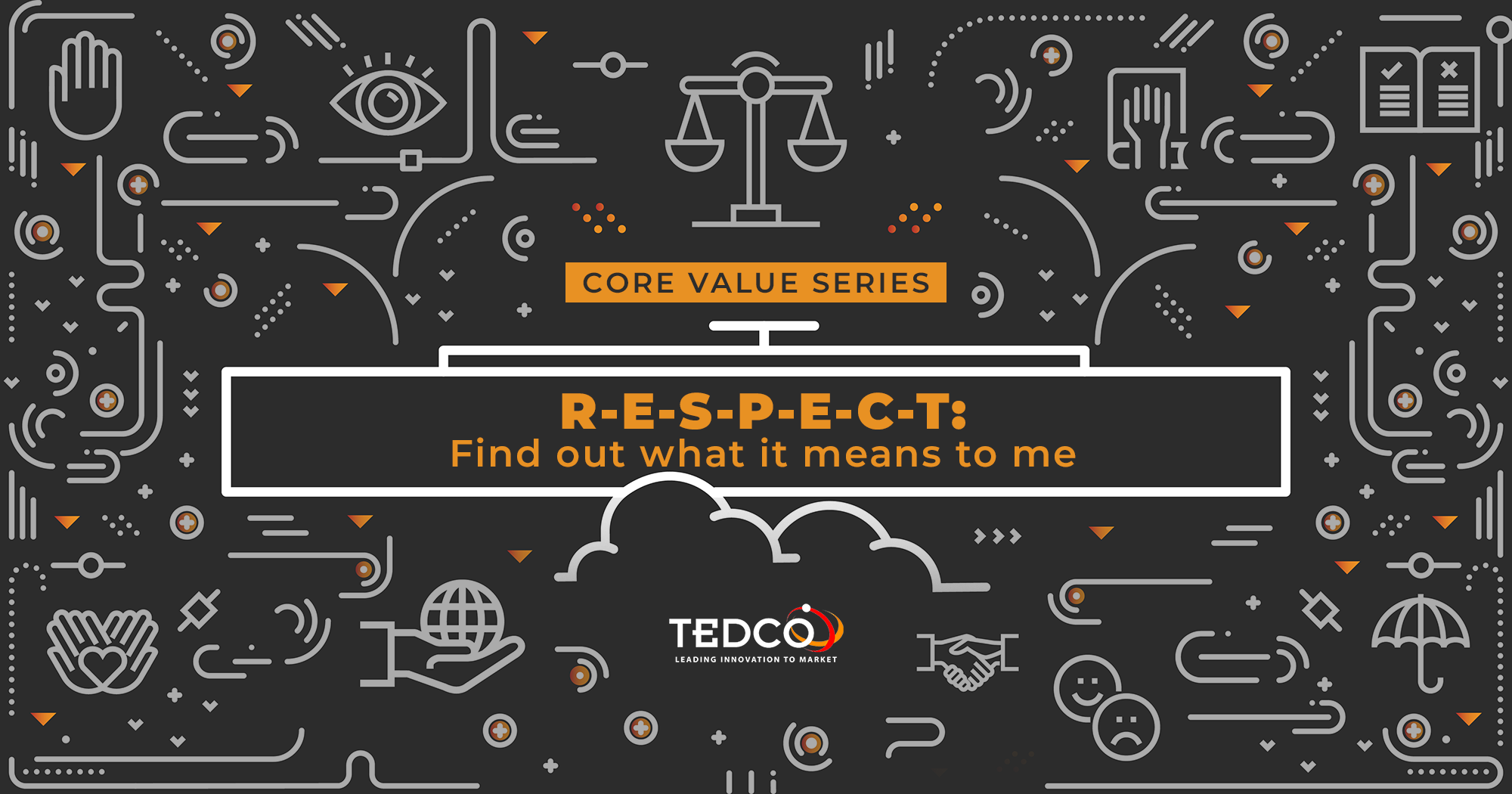 Aretha Franklin famously sang, "R-E-S-P-E-C-T; find out what it means to me!" The song earned her two Grammy awards, was inducted in the Grammy Hall of Fame and the Library of Congress' National Recording Registry, and ranked number five on Rolling Stone magazine's list of "The 500 Greatest Songs of All Time."
 
What makes the song so popular and, well, respected? In addition to being catchy and memorable, its lyrics speak to a universally recognized value: We all want respect—and we all know that to get respect, we must also give it. 
 
Yet getting and giving respect can be difficult to put into practice consistently. Many organizations include respect in their values, but without considering its true meaning and what it takes to "walk the walk." True respect can't be in name only—it has to be authentic to be effective.
 
At TEDCO, our commitment to respect is reflected in our core values: "We uphold a culture of respect at work, within our communities, and nationally. We embrace diversity and value our employees for their individuality and the unique perspectives that they bring to the organization."
 
But respect at TEDCO is much more than words on paper. The TEDCO team represents a group of passionate people from different nationalities and backgrounds who are leaders in technology, life sciences, and commercialization. It's because of this diversity—not in spite of it—and our mutual respect for each other's unique perspectives and expertise that we can achieve our collective mission.
 
Not only is diversity important to TEDCO's culture, we know that it also fuels Maryland's thriving entrepreneurial ecosystem. There's a large body of evidence to support the connection between diversity and innovation. According to research summarized in Forbes, companies with above-average diversity produced a greater proportion of revenue from innovation (45% of total) than from companies with below average diversity (26%). This 19% innovation-related advantage translated into overall better financial performance. Clearly, organizations that value and respect differences outperform their peers.
 
TEDCO isn't the only organization demonstrating a commitment to diversity, inclusion, and respect. Stanford University instituted a Respectful Workplace training that all new faculty, staff, postdocs and graduate students must take. Closer to home, Leadership Maryland trains business leaders from across the state to have crucial conversations in an environment of trust, respect, and civility.
 
One of the best ways that you can start demonstrating respect is to encourage dialogue among those with unique backgrounds and perspectives and then really listen. The gold nuggets of innovation can be found at the intersection of diverse viewpoints.
 
Respect is an important value to me personally and professionally. I believe in treating all people with respect and celebrating diverse points of view—and it's incredibly rewarding to work with a group of people who feel the same. 
Tammi Thomas (tthomas@tedco.md) is the Vice President, Marketing & Communications at TEDCO, where she develops and oversees the implementation of the organization's brand, marketing, and communications strategy.
Source: Leadership Maryland Blog
See what Respect means to the TEDCO team