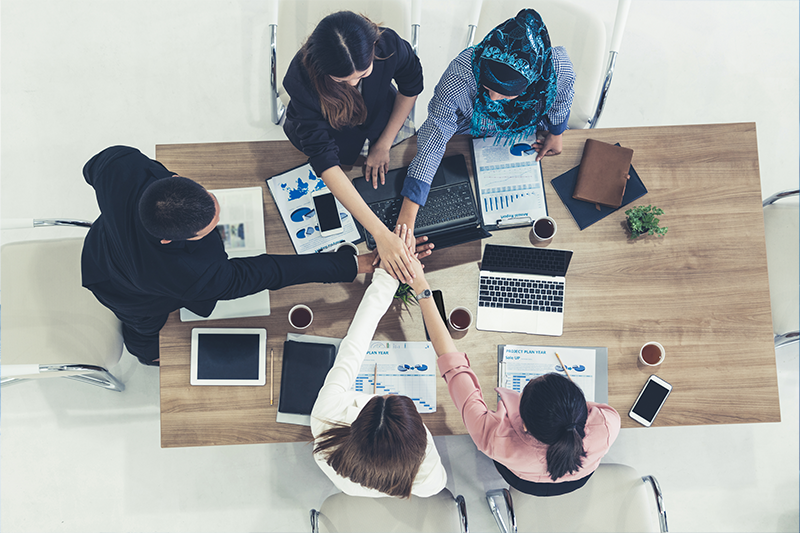 While many organizations are increasingly comfortable talking about diversity, equity and inclusion (DEI), the proof of commitment is in the actions taken to ensure DEI permeates both the organization and its external stakeholder work. Here, at the Maryland Technology Development Corporation (TEDCO)—a public-private entity tasked with investing in Maryland tech companies and helping them grow—our commitment to DEI is evident in our culture, our programming and our funding. Hector Ocasio, founder and CEO of Pet Connect Business, a TEDCO portfolio company, recently highlighted our work to support under-represented founders like himself.
"Most minority founders do not have a network of friends and family to support them through early-stage financing; as a result, many of us fail before we even had a chance to get started. That is why programs like TEDCO are so influential for entrepreneurial growth within Maryland," said Ocasio. "Even after the completion of my program, TEDCO has continued to proactively provide guidance and support along my entrepreneur journey."
Ocasio added that acceptance into a TEDCO entrepreneur program was like participating in an elite accelerator; these programs provide access to TEDCO tools, resources and mentors, all of which helped take his business management software for pet service providers and mobile marketplace for pet owners to the next level.
Founder and CEO of NasaClip, Liz Clayborne, MD, agreed on the array of supports that TEDCO offered her start-up. 
"I have gained resources, support, media exposure and key contacts through a myriad of programs such as their Social Impact Fund, Women's Roundtable and the [SBIR] Proposal Lab, which helped me to secure an NSF SBIR Phase I grant," said Clayborne. "TEDCO took a chance on NasaClip and thanks to their efforts, we are on track with over $1 million in funding helping to bring the 'Band-Aid' of nosebleeds to market and make it a household name!"
TEDCO's DEI Culture, Funding and Programs
As illuminated in these stories from Ocasio and Clayborne, TEDCO's commitment to DEI impacts all aspects of the organization and our stakeholder offerings. Here at TEDCO, we've consciously dedicated resources and efforts to create a culture of belonging and support for diverse communities both within the organization and with the many businesses we mentor, fund and support. That includes developing marketing messages targeted to reach under-represented communities, as well as actively seeking service providers who reflect our talented and diverse Maryland workforce.
An essential component of our DEI strategy is ensuring TEDCO programs and funds are assisting a broad array of entrepreneurs and building out a network of like-minded co-investors. TEDCO created the Urban Business Innovation Initiative (UBII) and continues to grow and enhance our Social Impact Funds. These programs and funds, which include the Builder Fund and the Inclusion Fund, were purposely designed to offer an early source of support and capital to talented tech startup founders who are traditionally under-represented in their fields. 
"TEDCO's intentionality to inclusivity and equity can be seen at every step in the entrepreneur's journey," said Elizabeth Good Mazhari, TEDCO's DEI and investment advisor. "You can see this in our efforts to accelerate support and investment in underserved entrepreneurial communities."
Entrepreneurs like Elise Whang, the CEO & Co-Founder of LePrix, appreciate TEDCO's ongoing commitment to inclusion. 
"TEDCO has been a thoughtful and generous supporter throughout our startup journey," said Whang. "They are great strategic advisors, helpful with investor introductions and solid sounding boards. It does not go unnoticed that TEDCO makes a conscious effort to be inclusive and fair in their opportunities to female and minority entrepreneurs like me." 
Practicing Inclusion with Maryland University Partners 
TEDCO's inclusivity extends to those who did not initially consider themselves entrepreneurs, including participants in TEDCO's award-winning Maryland Innovation Initiative (MII) program. 
Take Mustafa Al-Adhami, Ph.D, a scientist who knew the severity of the sepsis problem: 1.7 million Americans are evaluated for sepsis every year, and too many have died while waiting for the correct antibiotic. His solution was to develop a platform to determine antibiotic sensitivity in one hour, giving doctors and patients precious time and a life-saving tool through his new venture, Astek Diagnostics Inc. (Astek).
While the concept of Astek was conceived in a university lab space, a crucial next step was bringing it to the commercial marketplace. Al-Adhami, who is affiliated with the University of Maryland, Baltimore County (UMBC), found the ideal partner in MII, which is administered by TEDCO.  
"TEDCO transformed me from a scientist to a founder," said Al-Adhami. "It was TEDCO that first invested in Astek and offered mentorship throughout the process, taking me from the lab to a path of entrepreneurship." 
TEDCO's Door Remains Open 
TEDCO's commitment to equity means welcoming everyone to apply for programs and funding—and offering guidance on what it takes to successfully reapply if the start-up shows promise but is not quite ready. Ronald J. Steptoe, the CEO of Warrior Centric Health Inc., always felt valued as a Maryland entrepreneur by TEDCO—even when his project was not funded initially.
"While I had pitched to TEDCO two times over a three-year period, the third time was the charm in receiving an initial investment of Seed Funding," said Steptoe. "If I had not thought TEDCO was sincerely interested in helping Warrior Centric Health, I would not have continued to pursue investment. Rejection can be difficult; however, it felt like TEDCO was saying 'not yet' rather than 'no.' That gave me hope and the drive to keep fighting."  
TEDCO appreciates Steptoe's persistence. We're also committed to persisting in our efforts to advance diversity, equity and inclusion as we invest in Maryland tech companies and help them grow.
How can you help? Encourage a diverse cross-section of our innovative Marylanders—
from researchers in the lab to tech entrepreneurs with the next great idea—to seek out TEDCO. They'll find a committed DEI partner and potential resource for their start-up. Find more information at our website and our readiness assessment tool.