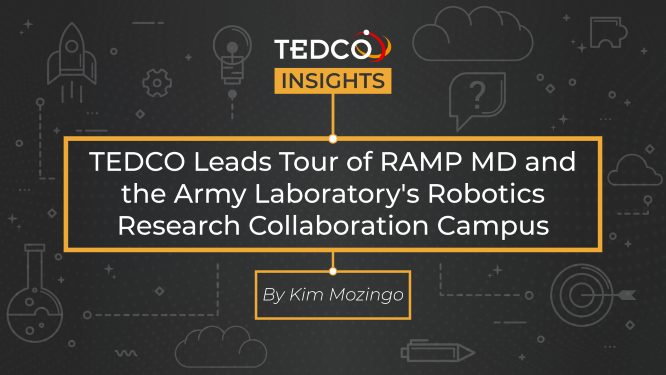 TEDCO Federal Programs engages with federal research laboratories and manages programs that help businesses make use of the public investment in science, technology, and innovation. Toward the goal of helping Maryland businesses grow, Federal Programs also connects partner organizations with each other and with businesses to strengthen bonds across the ecosystem.
Federal Programs arranged a tour of the Regional Additive Manufacturing Partnership of Maryland (RAMP MD) and the Army Research Laboratory's Robotics Research Collaboration Campus (R2C2). RAMP MD, established by the MD General Assembly in 2014, is a consortium of private businesses, educational institutions, governmental agencies, and representatives of U.S. Army Aberdeen Proving Ground (APG) that are working together to expand Maryland's capabilities in additive manufacturing. Through partnership with RAMP MD, companies gain access to unique equipment and capabilities that they may otherwise not be able to afford. R2C2 provides the Army, University partners, and business partners with the opportunity to collaborate and test.
The 6 May 2021 tour was set up by Kim Mozingo, TEDCO's Director of Federal Programs to build collaborative partnerships between ecosystem partners and to offer cohort participants of the SBA-funded SBIR/STTR Proposal Lab Workshop the opportunity to learn about resources available in the federal labs to help them grow their business. The tour was attended by partners from the Maryland Manufacturing Extension Partnership (MD MEP), the Mid-Atlantic Gigabit Innovation Collaboratory (MAGIC), and a team from the US Air Force SparkX Innovation Cell at Joint Base Andres. Proposal Lab cohort participating companies included Airgility's CTO Evandro Valente, Advancing Synergy's President and CEO Arti Varanasi, Insight Engineering Civil Engineer, Tony Vaz, and Kick Robotics Chief Robot Officer John Crupi along with two Kick Robotics graduate interns from the University of Maryland Clark School of Engineering.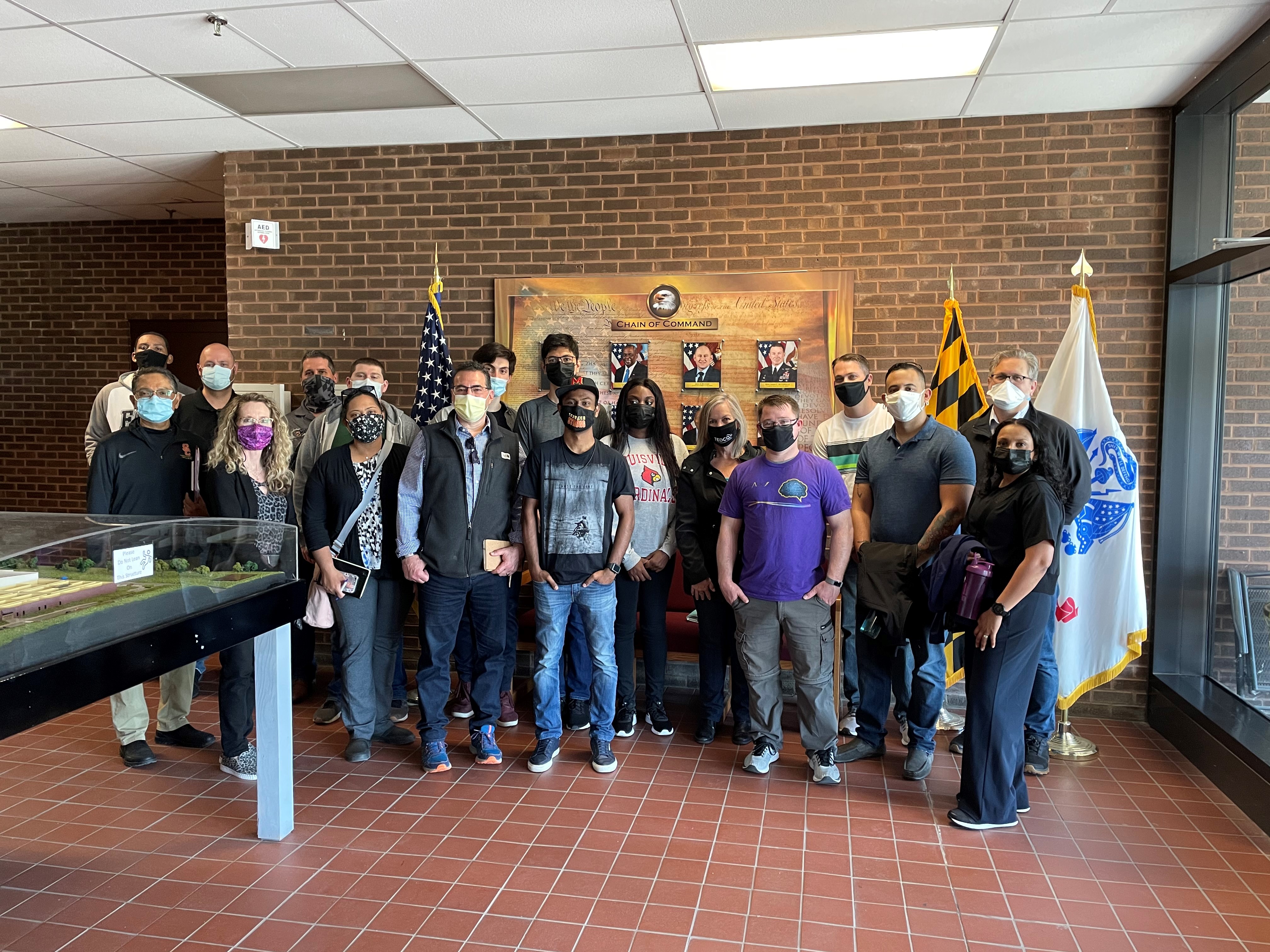 Kim Mozingo Leads Tour for Partner Organizations
Tony Vaz, PE, LCDM, Insight Engineering, Inc. said, "As an engineer and entrepreneur, the visits to the Aberdeen Proving Grounds and the Robotics Research Collaboration Center were illuminating and exhilarating.  We have always known that there was a nexus between academia, government and the private sector.  In today's environment where every business model is being disrupted in a matter of months, it is an absolute necessity to integrate the components of this nexus and implement sustainable mission driven projects that solve a known problem.  The highlight of the visit was to meet these officials who were so transparent with their capabilities and welcoming to the team. Now it is incumbent on us as entrepreneurs to use them as a resource."
Kim Mozingo is the Director of Federal Programs at TEDCO.