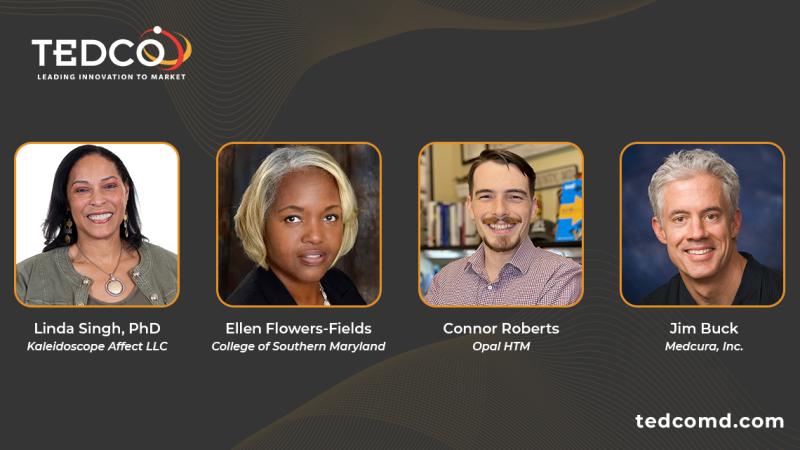 What do the National Society of Black Engineers and TEDCO have in common? Both were highlighted in a pop-up conversation with entrepreneurs on seeking helpful resources at every stage of your life and career.
The talk took place during a TEDCO pop-up at Baltimore's City Garage, a space aimed at turning "thinkers into doers" – a relevant theme for the many visionary innovators in attendance. The pop-up was so well received we decided to take it on the road and have since held TEDCO pop-ups in Southern Maryland and Prince George's County.
TEDCO CEO Troy LeMaile-Stovall and retired National Guard Maj. Gen. Linda Singh of Kaleidoscope Affect LLC held a far-ranging conversation that included such issues as the need to reward ourselves for meeting the small goals and not waiting to celebrate only the large accomplishments – an important reminder for entrepreneurs in Prince George's County.
In the latest pop-up in Southern Maryland, LeMaile-Stovall was joined by Ellen Flowers-Fields. As the associate vice president for continuing education and workforce development at the College of Southern Maryland, Flowers-Fields leads economic and community development programming for the college and has extensive experience connecting entrepreneurs to funding and support.
Why hold pop-ups?
TEDCO's vision includes serving as the hub of Maryland's innovation ecosystem. Our team understands that doesn't mean passively waiting for entrepreneurs to find us. An essential part of our work includes creating opportunities for conversations that reach communities and people across the state. That can be by joining a TEDCO virtual conference, connecting with a Rural Business Innovation Initiative (RBII) mentor at a partner event, or attending an in-person regional pop-up.
In addition to networking with a diverse group of innovators, attendees can connect with potential partners and learn about business resources and funding. The pop-ups also feature a TEDCO Talk with LeMaile-Stovall, where he and a guest focus on innovation; diversity, equity and inclusion; and economic development.
Participants have shared that they leave with new contacts and a greater understanding of Maryland's innovation ecosystem – as well as the energy boost from engaging with people who have a similar entrepreneurial spirit and mindset.
Our commitment to entrepreneurs across the state
We recently announced an investment of $25,000 through TEDCO's Rural Business Innovation Initiative in Opal HTM, a White Plains, Maryland-based technology company.
Opal HTM, founded by Connor Roberts, developed a patented system that improves hospital efficiency by reshaping how medical equipment is managed and maintained. The system uses wireless sensors to track where, when and how often medical equipment is used, providing end users with a real-time, high-precision account of equipment utilization. Opal HTM then analyzes this data to pinpoint costly inefficiencies, helping hospital staff sharply reduce equipment-related expenses through optimized inventory, procurement and maintenance without compromising patient care.
Roberts said, "TEDCO's RBII has been an invaluable partner to Opal HTM since our earliest days, and we owe so much of our continued growth and success to the resources they have provided … frequent strategy sessions kept us grounded and on track towards commercialization even in the face of a global pandemic."
In Prince George's County, TEDCO invested $1 million in Medcura Inc., through the new State Small Business Credit Initiative. Based in Riverdale, Maryland, Medcura is a life science and medical device company that has commercialized its first product, derived from its advanced wound treatment platform for rapid bleeding management, and is in the final stages of developing the next standard of care for managing intraoperative surgical bleeding.
"TEDCO and our home state of Maryland has been an invaluable supporter of Medcura's pioneering work to support surgeons, patients and the military with our product to quickly stop patient bleeding. Whether it was financial support from TEDCO's Maryland Innovation Initiative and Seed Funds, or connections with other institutional investors, the TEDCO team has been here for us," said Medcura's CEO Jim Buck.
"This SSBCI funding helped to galvanize a larger round that will support the expansion of our commercial footprint and support further clinical evaluation of our product line – taking Medcura to the next level."
Maryland Innovation Initiative pop-ups coming this fall
The pop-up model was so successful that TEDCO's Maryland Innovation Initiative (MII) program is planning a series beginning this fall.
MII was created as a partnership between the state of Maryland and five Maryland academic research institutions – Johns Hopkins University; Morgan State University; University of Maryland, Baltimore; University of Maryland, Baltimore County; and University of Maryland, College Park. The program is designed to foster the commercialization of technologies and increase collaboration among various schools, departments and institutions.
We recognize there are innovations and research happening in Maryland's nontraditional research institutions, such as Bowie State University and Frostburg State University, that are being overlooked so we are intentionally developing relationships with those schools to expand the diversity of the people they support across race, gender and geography.
LeMaile-Stovall believes that by expanding the network and the networks of the entrepreneurs throughout Maryland's ecosystem, a multiplier effect will occur, diversifying not only thought but participation in the state's economy, a critical step to changing the wealth equation.
The MII pop-ups will rotate among Johns Hopkins University; Morgan State University; University of Maryland, Baltimore; University of Maryland, Baltimore County; and University of Maryland, College Park.
The pop-ups will feature networking, a look at each university's awarded projects, as well as a live taping of TEDCO's "The Leading Edge" podcast with an MII board member. "The Leading Edge" is TEDCO's newest series exploring innovative new technologies in Maryland's entrepreneur ecosystem.
Want to stay up to date on TEDCO pop-ups and other networking news? Subscribe to our newsletter for the latest updates.
Tammi Thomas is TEDCO's chief marketing and communications officer
Source: Washington Business Journal