Baltimore
TEDCO's Rural Business Innovation Initiative (RBI2) announced its latest pre-seed investment in PaverGuide, Inc.—a structural base for paving systems designed to advance permeable pavements. PaverGuide is the second rural-based company to receive a $25,000 investment from TEDCO's program. As a recipient, the company will be provided with ongoing mentoring and funding to continue developing a clean rainwater reservoir and expansive infiltration system.
"This opportunity shows the organization's commitment to growing and supporting innovation throughout Maryland, while allowing us to build and expand green infrastructure through pre-seed funding and professional mentorship," said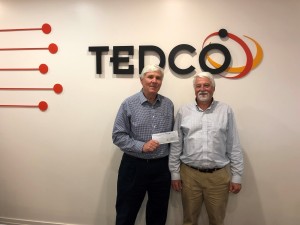 Charles White, CEO of PaverGuide. "As we expand our services across the U.S. and grow our operations, TEDCO's investment—both in resources and funding—are critical to ensuring efficient, effective and quality water control."
PaverGuide, Inc. developed and sells a storm water infiltration chamber that replaces stone as a road base and reservoir below permeable pavements. The product is a structural base for paving systems, manufactured from recycled plastic. It can be installed faster and cheaper than the stone it replaces—and at 90% void, it provides a massive rainwater reservoir and expansive infiltration surface. PaverGuide allows for increased productivity and profitability, and expansion of clean, green and professional materials. The company is also developing a stormwater filtration media at the University of Maryland. The research is funded by Maryland DNR and the Maryland Industrial Partnership.
"This company is a great testament to the ingenuity and problem-solving acumen that will have a major, lasting impact beyond our state lines," said Bill Bernard, RBI2 Mentor. "With a successful road since its inception, PaverGuide is posed to grab hold of significant share in the green infrastructure and water infiltration markets."
(Pictured from left to right) PaverGuide CEO Charles, White RBI2 Mentor Bill Bernard
TEDCO's RBI2 program is designed to provide technical and business assistance to small companies and early-stage technology-based companies in rural Maryland. The goal of the program is to help companies overcome business and technical hurdles and advance to the next growth level. There is no cost to the company to receive assistance. In May 2018, TEDCO announced its first pre-seed investment in Plum Dragon. The Chester-based company manufactures and sells a line of 100% herbal and natural topical analgesics for trauma injury and pain such as tendonitis, bruising, sprains, strains, fractures, muscle and connective tissue injuries.
Eligible recipients work with highly trained, highly-experienced mentors who provide technical and business assistance. Eligible companies must be developing new technologies to create or expand their business, have fewer than 16 employees and have annual revenues of $1 million or less.
For more information, visit tedco.md.