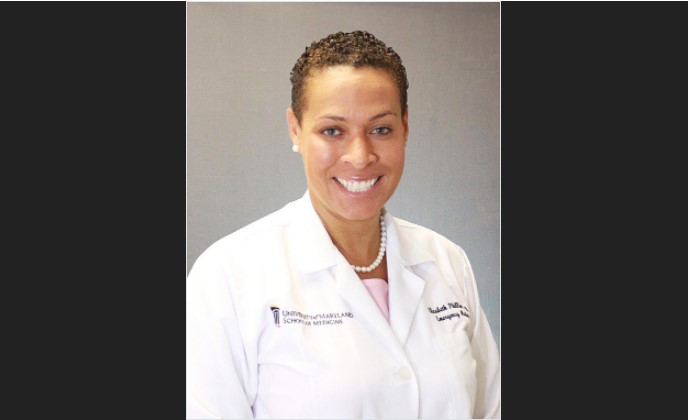 Dr. Elizabeth P. Clayborne juggles many roles: emergency room physician, spouse, parent – and most recently, the inventor and founder of NasaClip.
The need for her NasaClip product came directly from Clayborne's day job where she was struck by the large number of people who came to the ER with nosebleeds. The NasaClip device provides simple and effective nosebleed rescue at home, using hands-free, external nasal compression with intranasal sponges that medicine can be added to that go inside the nose. The product aims to stop nosebleeds within 10 to 20 minutes, eliminating hours-long waits in crowded ERs. Clayborne's experience working as an ER doctor during the pandemic further illustrated the importance of helping patients solve simple problems at home.
While many of Clayborne's skills as a physician helped her develop her business – strong communication skills and understanding everyday health problems – she knew her expertise rested with her product, not the business world. That's where the Maryland Technology Development Corporation (TEDCO) came in. TEDCO fosters an inclusive entrepreneurial innovation ecosystem by investing in Maryland science and tech companies, and NasaClip proved a good match for TEDCO's Builder Fund.
"I knew what I wanted to do with my company, but I didn't have the mentorship, the advisors and the capital to execute those goals. I was thrilled to join the TEDCO community, which not only provides capital through the pre-seed Builder Fund as well as executive management support, but also a community of other founders to encourage and support me on my journey as a Black, female founder," said Clayborne.
The challenges facing many tech startups
This need for expert advice, community and access to funders is not unique to Clayborne. Jean-Luc Park, the senior director of Social Impact Funds at TEDCO, cites luck and proximity to funding as factors that often influence who gets support, noting there are many tech entrepreneurs with quality projects and the skills to succeed; what they lack is the right connections.
"This lack of investment opportunity comes with real costs: not only are entrepreneurs unable to realize their full potential, but Maryland loses out on good-paying jobs, exciting innovations, an expanded tax base and the chance to narrow the wealth gap," said Park.
That's why TEDCO's Social Impact Funds are so important, offering a first line of resources to talented and experienced tech startup founders who are traditionally under-represented in their fields.
"There is a distinct difference between a company, and an investable business, said Park. "Many good companies do not attract investors and should not pursue investment. The goals, time frame, and rewards of the investors and the founder are not always aligned. It can be difficult for an early-stage entrepreneur to hear but taking on the wrong type of investor at the wrong time can ultimately stunt the growth of a company."
Centering diversity, equity and inclusion in Social Impact Funds
TEDCO embraces diversity, equity and inclusion in Maryland's startup communities. The Social Impact Funds are purposefully designed to engage and invest in under-represented founders and communities. One of these funds is the Builder Fund, which invests with the goal of helping startups reach meaningful milestones and become healthy companies, going on to either attract larger institutional investors or become independent of the venture investor path.
"Liz embodies the entrepreneur that the Builder Fund was designed to support," said TEDCO's DEI Advisor Elizabeth Good Mazhari. "She has taken advantage of the programming and funding offered by TEDCO to transform her idea into a fundable business opportunity that has garnered additional investment and accelerated the NasaClip path to market."
The Builder Fund typically invests in amounts up to $200,000 via convertible notes or other financial instruments. Funded companies are also provided resources like hands-on executive support, peer-to-peer mentorship/collaboration and networking opportunities.
"In 2021, women founders raised just 2% of venture capital money (Bloomberg), and only 23% of biotech CEOs are women (Business Insider)," said Margia Argüello, Office of Life Sciences, Maryland Department of Commerce. "Liz, on the other hand, is a great example of biotech women founders' success in Maryland. Our innovation ecosystem supports the growth of our companies through initiatives such as TEDCO's Social Impact Funds, and Commerce's programs that help grow medtech companies and incentivize growth of Maryland's bioeconomy."
The NasaClip journey continues
NasaClip, a participant of TEDCO's SBIR/STTR Proposal Lab, recently received a $256,000 SBIR grant from the National Science Foundation.
Clayborne's NasaClip is happy with the trajectory of her business and is proud to be part of the TEDCO family. She continues to meet regularly with a women's roundtable group for other female founders and remains close to her cohort members.
"I initially had an idea, a dream. TEDCO saw what the potential could be and where we could go from here. Now I have a product that's ready to go – marketed and patented – and capital behind me propelling me to the next stages," she said.
Clayborne hopes her product becomes a global brand name in every medicine cabinet across the world. She would also like her story to serve as an example of Black excellence – showing her community that just as it's important for a woman of color to serve her community as a physician, she also wants to show she can be successful in business, in a space dominated by people who don't look like her. She's off to a great start: NasaClip was oversubscribed in its recent pre-seed raise, securing over $500,000 in capital.
To learn more about launching your tech business with TEDCO, visit TEDCOmd.com.
TEDCO, the Maryland Technology Development Corp., enhances economic empowerment growth through the fostering of an inclusive entrepreneurial innovation ecosystem. TEDCO identifies, invests in and helps grow technology and life science-based companies in Maryland. Learn more at tedcomd.com.
Source: Maryland Inno