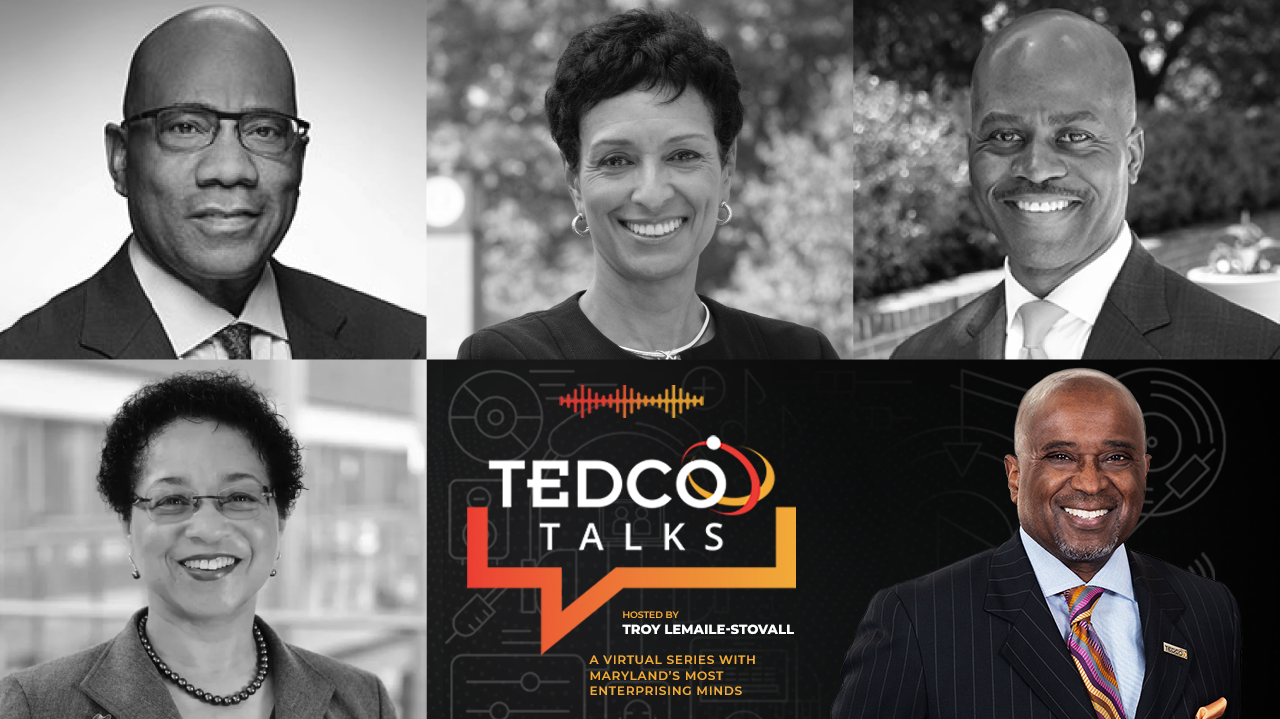 TEDCO has emerged as a national leader in bridging gaps between underinvested communities and industrial innovation, and nowhere is that work more prominent or essential than its engagement with historically Black colleges and universities (HBCUs). The partnership between TEDCO and Bowie State University, Coppin State University, Morgan State University and the University of Maryland Eastern Shore (UMES) has created notable gains for entrepreneurship and technology transfer throughout the state.
Leaders from the four institutions have shared in recent months the executive view of these partnerships in an ongoing TEDCO Talks virtual series. Led by TEDCO CEO Troy LeMaile-Stovall, the series probes questions of potential and prosperity for these historic institutions and their connections to Maryland's economic future.
TEDCO has worked to live out the HBCU mantra of meeting people where they are and propelling them to success with signature initiatives and investments for nearly 25 years. It has established programs such as the Social Impact Funds, the Urban and Rural Business Innovation Initiatives (UBII and RBII) and the Women Entrepreneurs Leadership Programs to broaden the scope of public and private investment in Maryland-based technology and life science companies established in underrepresented communities.
Campus leaders call the partnership an ideal fit for transferring higher education, workforce development and research into real-world solutions for communities.
"Our partnership with TEDCO is very important because it is at the forefront of change, diversity, inclusion, technology and those are important factors to Coppin State," said CSU President Anthony Jenkins. "One of the cornerstones is our Center of Strategic Entrepreneurship that will feature maker space, opportunities for individuals to tap our faculty and students to help small businesses grow and startups put together business plans to start off on the right foot and be successful."
Jenkins says the center, combined with its one-year credential offering in entrepreneurship and innovation, gives residents in West Baltimore a chance to design goals around starting businesses and building them for longevity.
Across the city, Morgan State is emphasizing emerging technology as part of its entrepreneurial offerings. In 2019, Morgan State became the first historically Black institution to launch a national center dedicated to research on blockchain technology and cryptocurrency through its Earl G. Graves School of Business and Management. Funded by a substantial donation from Silicon Valley-based tech firm Ripple, Morgan's FinTech center is creating training opportunities for minority students entering careers in cybersecurity, online payment solutions and other tech infrastructure jobs in entrepreneurial and commercial spaces.
Last fall, Omar S. Muhammad, director of the Entrepreneurial Development and Assistance Center at Morgan State University became the first African American to chair TEDCO. The Morgan alumnus and serial entrepreneur cited TEDCO's community work as a blueprint for building similar opportunities for small and minority business owners statewide.
"I don't take this opportunity for granted. Working with other board members several years ago, we were able to provide diversity by investing in entrepreneurs (African American and women) and staffing," Muhammad said in a release. "It is an honor to take the role of chair for this innovative and driven organization."
The HBCU-TEDCO alliance has also provided new foundations for emerging industry and efficiency within government, according to Bowie State President Aminta Breaux.
"Technology is very much a part of the fabric with our STEM majors. We're one of the top producers of African American computer scientists in the state of Maryland," she said. "We sit along the defense corridor with government agencies and businesses that need cybersecurity analysts. So, we are using technology to deliver education and disciplines from computer science, artificial intelligence and data analytics."
Bowie State is home to a national Center of Academic Excellence in Cyber Defense Education, one of the state's most active outreach agencies for training and exposure for cybersecurity careers to middle and high school students, and recently hosted youth from D.C. and Prince George's County schools at a cyberdefense career fair featuring personnel from the Federal Bureau of Investigation.
UMES leaders say the agricultural sciences are a key component of building socioeconomic equity statewide. As one of two public land grant institutions, it plays a major role in protecting the state's waterways and associated maritime and fishing industries, to creating revenue generating patents and opportunities for transformative research funding.
"We are the 1890 land grant institution for the state of Maryland. And when you are a land grant institution you are known for the sciences, but you are also known for giving back to the community," says UMES President Heidi Anderson. "Over the last six years, 60% of our students enroll in these science and agriculture programs. We are a Research 2 institution that is moving up the ranks and our faculty made that decision to move up because they are doing patents in our school of pharmacy and it's one of the things that shows if you are a research institution or not."
Last fall, the university received a $630,000 Crop Protection and Pest Management Grant from the U.S. Department of Agriculture's National Institute of Food and Agriculture to support research and cooperative extension with local farmers in reducing insect infestation, while building skills in crop development and preservation.
LeMaile-Stovall says the partnerships with HBCUs are a public and heartfelt expression of TEDCO's commitment to diversity and equality in emerging industries. And there's much more to come in the near future.
"We want to be an example for the rest of the country that innovation and exploring possibilities for the economic future and viability of a state must come from all corners of its geography, ideologies and population," he says. "The relationships with these four dynamic universities showcase that idea, and just how powerful opportunity and collaboration can be for people who for too long have been left out of conversations about collective potential."
To view the TEDCO Talks, see the following:
Tammi Thomas is the chief marketing and communications officer at TEDCO. 
Source:  Baltimore Business Journal