Baltimore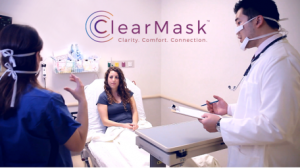 TEDCO, Maryland's economic engine for technology companies, inducts ClearMask into its mdPACE program to assist in bringing its life-changing innovation to market. Baltimore-based, ClearMask LLC is the developer of the country's first, full-face transparent surgical mask designed to help healthcare entities reduce medical errors caused by miscommunication and provide a better experience for deaf patients and other patient groups who heavily rely on visual cues, including children, limited English proficiency patients, and immunosuppressed patients who cannot see the smiles of their loved ones and care team.
As part of the mdPACE program, ClearMask has access to TEDCO's expertise and resources to efficiently navigate the FDA regulatory process and generate a 510(k) cleared technology within 12-18 months. The experienced team provides an intimate focus and collaborative spirit to support the medical device startup in bringing to market a product that will save the state millions in avoidable malpractice costs, reduce medical errors caused by miscommunication, support disability compliance and ultimately provide better health outcomes through better patient-provider communication.
"Getting through FDA clearance is a daunting and costly milestone that every medical device company must clear. It's comprised of many things, from developing quality management systems to optimizing manufacturing strategies and distribution. Partnering with TEDCO's mdPACE will be a critical key to our success and will allow us to create a sustainable product that can bring long-term economic impact and growth to Maryland," said Allysa Dittmar, ClearMask's president. "Being a part of TEDCO provides us incredible opportunities to meet and collaborate with other entrepreneurs and entities experienced in this process and help us have a greater impact on the community."
The ClearMask, developed in Baltimore, is the first of its kind medical device. The full-face, anti-fog transparent window enables lip-reading and full visual communication with facial expressions, while also being more comfortable and breathable than standard and semi-transparent surgical masks. The mask will help reduce miscommunication, a factor in 80 percent of medical errors, resulting in $1.7 billion in malpractice costs.
"Innovations like the ClearMask represent the next generation of medical device entrepreneurs, those with seasoned guidance, that are poised to attract investment, hire employees, and generate revenue," said Neil Davis, TEDCO's Director of Entrepreneurial Development. "Overall we're excited about the outcomes of the program and the increased flow of FDA-cleared devices from the Central Maryland region in the coming years. Successfully cleared technology will heighten the visibility among investors and manufacturers—both in Maryland and around the country— that will increase its sustainability."
mdPACE is jointly funded by TEDCO and the U.S. Department of Commerce, under the U.S. Economic Development Administration (EDA) i6 Grant, to help medical device companies like the ClearMask efficiently navigate the FDA regulatory process. The goal of the program investments is to create additional indirect and non-scientific jobs in the region, bringing with it the associated economic development benefits.
"This program is at the core of TEDCO's mission to nurture and fuel a successful entrepreneurial ecosystem here in Maryland," said George Davis, TEDCO's CEO. "We're invested in growing technology and businesses that will have a major impact on our economy—and further establish this region as a hub for medical device innovation and commercialization."
In 2016 mdPACE received $500,000 from the EDA and a $500,00 cash match from TEDCO. Since then, 18 companies have been accepted into the program. Companies previously funded through mdPACE include: Coaptech, GrekTek, Infinite BioMedical, Innurvation, Linshom, Multisensor Diagnostics, Sisu Global Health and Sonavex.
"Efficiently navigating the FDA clearance process is a potential bottleneck for any young medical device company," stated Coaptech co-founder and CEO Howard Carolan.  "TEDCO has created a high-value program that is really making a difference."
TEDCO accepts applications on a rolling basis. Eligible companies should be coachable and have secured some funding, either diluted or non-diluted. Ideally, the team will have been through a successful FDA pre-submission meeting. Interested entrepreneurs begin with the Request for Application.
About ClearMask
The ClearMask's patent-pending, full-face transparent surgical mask makes healthcare more human by facilitating whole-face communication and more compassionate, inclusive connections that reduce patient anxiety and costly medical errors from miscommunication while improving patient satisfaction and cultural competency. The ClearMask was born following a 2015 adverse surgical experience with the company's Deaf co-founder, Allysa Dittmar. Having relied heavily on sign language, lip-reading, and visual cues, Allysa was unable to communicate with medical staff in the operating room where everyone was wearing standard surgical face masks. Allysa was unable to see expressions, lip-read, or even a reassuring smile because of the masks. In critical health environments, she and many other deaf and hard of hearing patients are often unable to communicate with their providers because of the masks, and experience poorer health outcomes than their hearing peers. Learn more at https://www.theclearmask.com.