Baltimore
TEDCO's Rural Business Innovation Initiative (RBI2) announced its latest pre-seed investment in HopFlyt, Inc.—a company that has developed an aerodynamically advanced electric vehicle. HopFlyt is the third rural-based company to receive a $25,000 investment from TEDCO's program. As a recipient, the company will be provided with ongoing mentoring and funding to aid in the advancement of commuter transportation.
"TEDCO's support is critical to help jumpstart our move into the transportation marketplace," said Rob Winston, CEO of HopFlyt. "With the program's effective mentorship—both financially and operationally—we'll be able to continue our mission of providing faster, safer and more reliable urban transportation in Maryland and beyond."
HopFlyt, based in Lusby, Md., is building the Venturi—an aerodynamically advanced electric Vertical Takeoff and Landing (eVTOL) vehicle that transports urban commuters. Using a canard style design, the vehicle reduces travel times, improves travel safety and eliminates pollution.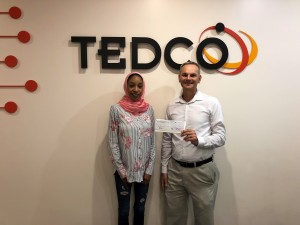 According to the 2016 U.S. Census Bureau, American Community Survey & Maryland State Highway Administration:
Americans spend an average of 276 hours every year commuting to and from work.
Maryland drivers spend 47.9 million hours every year waiting in traffic, wasting 22.6 million gallons of gasoline and costing $2 billion.
Annually, the economic cost is tens of billions of dollars in lost productivity, resulting in hundreds of millions of gallons of wasted gasoline and needless exhaust pollution.
The HopFlyt Venturi is a piloted aircraft that allows passengers to travel up to five times faster than ground-based transportation methods. It takes off vertically and makes use of the third dimension, flying over urban traffic congestion, and lands vertically at your destination.
"This company is at the cutting edge of life and technology that will enhance the quality of life in our state and across the country," said Tiffany Davis, RBI2 Mentor. "Through its collaborative innovation and environmental awareness, HopFlyt is an excellent representation of the kinds of companies we're committed to help flourish throughout the state—seeking solutions, challenging boundaries and revolutionizing technology."
TEDCO's RBI2 program is designed to provide technical and business assistance to small companies and early stage technology-based companies in rural Maryland. The goal of the program is to help companies overcome business and technical hurdles and advance to the next growth level. There is no cost to the company to receive assistance. In May and June of 2018, TEDCO announced its first and second pre-seed investments in Plum Dragon and PaverGuide, respectively.
Eligible recipients work with highly trained, highly-experienced mentors who provide technical and business assistance. Eligible companies must be developing new technologies to create or expand their business, have fewer than 16 employees and have annual revenues of $1 million or less.