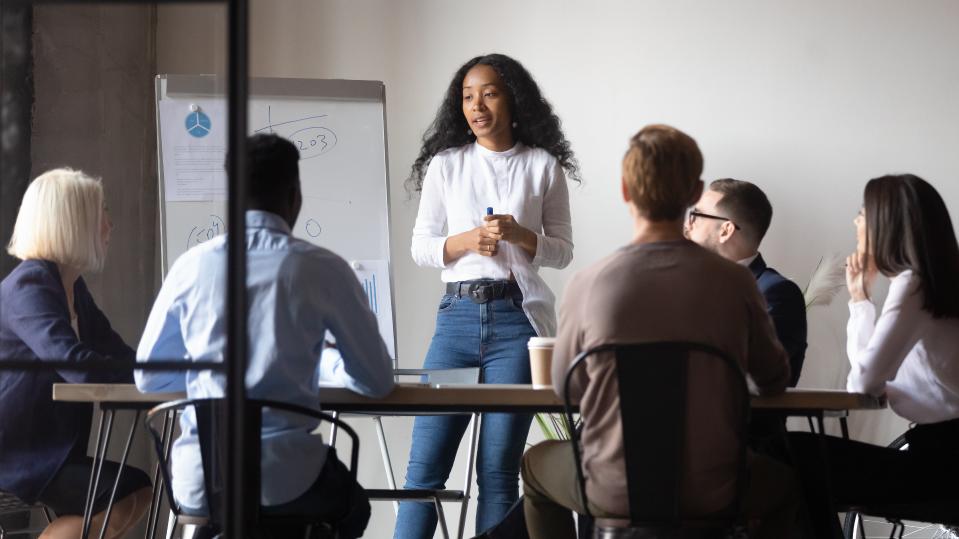 About

The Pre-seed Builder Fund (or Builder Fund) was created to financially and operationally support the development of startup companies run by entrepreneurs who demonstrate a socially or economically disadvantaged background that hinders access to traditional forms of capital and executive networks at the pre-seed stage. Companies selected for a Builder Fund qualify for investment and/or executive support to better position the company to receive follow-on, professional investment. The Builder Fund differentiates itself by identifying exceptional investment opportunities that are often overlooked by traditional funding organizations, by advancing the development of those opportunities. This program supports TEDCO's overall mission of identifying, investing in, and helping to build great, Maryland-based companies that grow and last.
Application Evaluation Process
The Builder Fund is now receiving applications via its online portal at www.tedcomd.com.  The deadline for the application has closed - February 15, 2020.
All applications will initially be screened for eligibility as set forth in Code of Maryland Regulations ("COMAR") § 14.04.02 and §14.04.03. Ineligible applicants will be notified within 30 days of their application submission.
Candidates eligible for the Builder Fund program will be further evaluated against evaluation criteria set forth in COMAR § 14.04.02 and §14.04.03.  The Builder Fund uses a uniform scoring rubric to evaluate all applications.  Individual criteria scores will be aggregated into a Total Application Score (TAS) and applications will be ranked by TAS (highest score to lowest score) to determine the relative strength of each application in comparison to other Builder Fund applications.
The highest ranked applications will be invited to interview with TEDCO staff as a first diligence step.  Candidates can expect to elaborate on the responses in their applications, provide verification of claims and assumptions made in the application, present customer information as references,  share any independent technical reviews or intellectual property reviews, provide evidence of intellectual property filings, and information on any other financing arrangements pending or in place.  Team representation is permitted at interviews and invited applicants are welcome to bring co-founders, employees, partners, advisors and other relevant affiliates to their interviews.  Medical device companies are encouraged to provide an outline of their development path and point of view on the classification for their device and background information used to make their determination.
TEDCO staff will evaluate candidates based on information gathered at the interviews with emphasis given to the likelihood that an investment in the applicant will lead to economic growth in the State.  Candidates are encouraged to clearly outline the status of their developments by highlighting milestones achieved and articulating the milestones the applicant believes are critical to achieve an inflection point in their business.  A key outcome of the interview and subsequent due diligence by TEDCO staff will be to determine milestones to be achieved during the Builder Fund program, if awarded, and the type of executive support needed by the Applicant in the context of the Builder Fund program, if any.
As a last step, highest ranking applicants will be invited as Finalists to make a presentation in the form of an investment pitch that uses the general and the Builder Fund specific  Investment Criteria as a basis for a narrative to demonstrate the applicant's potential for economic growth in the State of Maryland.
Important Builder Bloc3 (Spring 2020) Dates
Please make note of the following dates, which are subject to change in the event unexpected circumstances arise:

1.    Application Deadline:  February 15, 2020
2.    Status Notifications & Scheduling:  March 2 – 6, 2020
3.    Closing Documents Available for Applicant Review:  March 6, 2020
4.    Interviews:  March 9 - 20
5.    Status Notifications & Scheduling:  March 23-27, 2020
6.    Pitch Preliminary Session & Orientation:  afternoon of March 31, 2020 and the Morning of April 1, 2020
7.    Pitch Presentations:  April 2, 2020
8.    Closing Date / Cohort Activity Begins:  Wednesday, April 8, 2020
Program Format and Interaction
Awarded applicants will receive either: a) investment, b) executive support or c) a combination of investment and executive support.  A participating company must agree to receive executive support if required by TEDCO. Executives are part-time, C-suite level executives who temporarily fill important expertise gaps on an as-needed basis to help the companies achieve their critical milestones.  Milestones are structured by TEDCO in collaboration with the companies who pursue these milestones in collaboration with Builder Fund executives.
Areas of expertise include general management, sales, marketing, finance, strategy, customer discovery, fundraising, operations and medical product regulatory issues and reimbursement strategy for relevant companies.  Companies will be assigned a lead executive who will provide primary guidance and support with respect to the primary milestone(s) to be accomplished.  Other Builder Fund executives are accessible to companies as available.  Awardees can expect to work with leaders who are historically top performers in their own right and who will be a valuable asset to their companies provided that companies are transparent with the executives and the executives are engaged (?) properly.  
Companies are given a 150 hour allocation to collaborate with Builder Fund executives at no cost to the company.  The hours are effective at the time of each company's closing.  In general, Builder Fund executives are asked to be available up to 6 months, although companies are able to structure a timeline (pending an Executive's availability) based on the nature of the milestone(s) involved.  Companies should also expect a regular debrief with TEDCO staff and their collaborating executive(s) to keep everyone aligned and on track.  Companies will debrief biweekly in the first 12 weeks of the program and monthly in the latter 12 weeks (or per agreed upon timeline).
In addition to the executive interaction, companies are required to participate in the Builder Fund Roundtable, which is a peer-to-peer mentoring circle that meets every other Wednesday morning from 8:00 – 11:00 a.m. in the first 12 weeks.   Led by a talent management and organizational leadership executive, who is also a certified Executive Coach, the Roundtable builds the critical leadership skills and behaviors needed at the various stages of successfully scaling a startup.  Representative topics include:  a) Cofounder Dynamics, b) Relationship Building as a Leader and c) How Founders Formulate Culture.
In addition to the Roundtable, awardees participate in 6 hours of one-on-one executive coaching, which will enable accelerated development in their identified development areas.