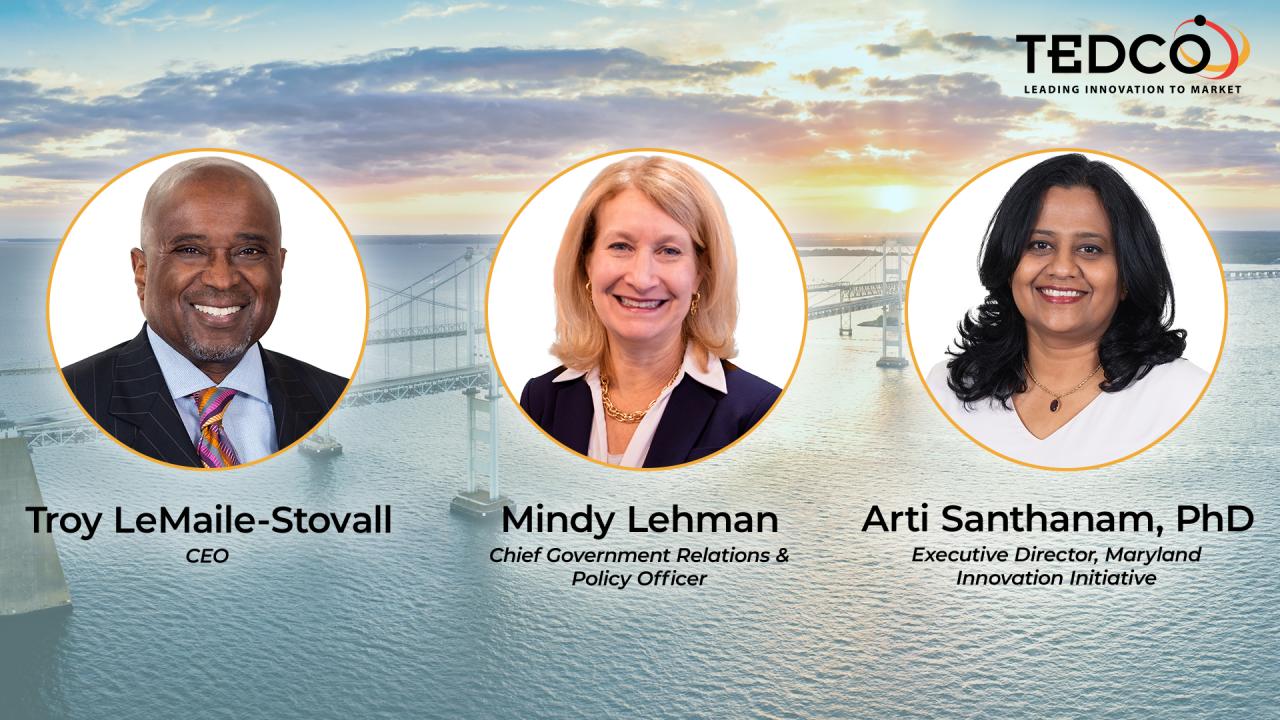 It's no secret. We are proud of the entrepreneurial innovation ecosystem here in Maryland. And when benchmarked against states around the country, Maryland regularly ranks in the top 10 and often in the top five in categories from best place to live to most educated workforce.
We are committed to enhancing economic empowerment for entrepreneurs across the state, providing funding, resources and connections that early-stage technology and life sciences companies need to thrive in Maryland.
We have generated more than 10,000 jobs, and over $100 million in state and local revenue for a total $2.3 billion in economic impact since our inception in 1998. But it's not enough.
We take seriously our responsibility to manage scarce resources and to serve as stewards of state, federal and private funds. We value our ability to create a sense of belonging and to serve our customers in an efficient and fiscally responsible manner.
But for us to realize our bold vision to be recognized as a national leader for supporting translational research, technology-based, economic and entrepreneurial development, we can't do it alone – our stewardship has to go beyond our investments and programs. We have to be stewards of the entire ecosystem to make it thrive and grow.
The U.S. Chamber of Commerce defines stewardship in the following way: A corporate steward is a company that conducts its business in a way that creates shared value. This means creating value for shareholders, delivering high quality products and services to customers, providing a great place to work for employees, supporting the well-being and development of communities near and far, reducing environmental footprint and helping suppliers to deliver shared value, too. A corporate steward follows the letter and spirit of the law and contributes actively to enhancing the communities in which it operates, and cares for the environment in a way that supports the long-term success of business.
Stewardship is a core value at TEDCO – one our team is committed to beyond their work within our organization. As published in the Academy of Management Review, stewards are assumed to be collectivists, pro-organizational and trustworthy, valuing cooperation.
Our team members are active stewards for a number of organizations that each play a critical role in the development of an equitable and inclusive ecosystem focused on helping entrepreneurs build, grow and scale, expanding the wealth and economies of our state. The organizations include Maryland Economic Development Association, Maryland Tech Council, Maryland Chamber of Commerce and the Governor's Life Sciences Advisory Board, among others.
I am an active member of MEDA (the Maryland Economic Development Association) and currently serve as its secretary. Through this role, I am able to engage with economic development leaders from throughout the state to collaborate on ways we can attract, retain and grow businesses to bring jobs and investment to Maryland.
According to TEDCO CEO Troy LeMaile-Stovall, who serves on the Maryland Tech Council Board, building strong relationships with the state's leading strategic tech innovators is an important responsibility and his support of the Maryland Tech Council and its collaboration with TEDCO will help propel Maryland to become the No. 1 innovation economy for life sciences and technology in the country.
TEDCO Chief Government Relations and Policy Officer Mindy Lehman serves on the Maryland Chamber Board, which is important because it allows her to learn about new policies that support Maryland's tech entrepreneurs. Certain legislative policies can have profound impact on entrepreneurs and without stewarding those policies on the behalf of our state's entrepreneurs, our ecosystem could not be as strong as it is.
Arti Santhanam, executive director of TEDCO's Maryland Innovation Initiative, invests in technology commercialization and startup companies spun out of our university partners. She also serves on the Governor's Life Sciences Advisory Board, which was created to help maintain Maryland's preeminence in the life sciences.
We challenge local and statewide leaders, employers, employees and organizations across industries to consider how they might go beyond the important work they do and become stewards for our entrepreneurial innovation ecosystem. Collective stewardship will help us to enhance economic empowerment for entrepreneurs across the state for Maryland to be recognized as a national leader in tech innovation and entrepreneurship.
TEDCO, the Maryland Technology Development Corporation, enhances economic empowerment growth through the fostering of an inclusive entrepreneurial innovation ecosystem. TEDCO identifies, invests in and helps grow technology and life science-based companies in Maryland. Learn more at tedcomd.com.
Tammi Thomas is TEDCO's chief marketing and communications officer
Source: Maryland Inno