Columbia
Independent third-party economic development study conducted by Battelle Technology Partnership Practice analyzes economic impact of the Maryland Technology Development Corporation
COLUMBIA, Md. (Jan. 29, 2014) – A recent third-party economic development impact study conducted by Battelle Technology Partnership Practice (TPP), the world's largest non-profit research and development organization, has found that the Maryland Technology Development Corporation (TEDCO) currently supports more than $565.9 million in economic contributions and more than 2,835 jobs in the State of Maryland annually, earning $200.5 million in salaries with estimated State and local government revenues of $22.8 million. The study also determined the economic contribution of TEDCO programs is projected to grow to $910.3 million and support a total of 4,527 jobs by 2018. These jobs will earn $320.3 million in salaries with estimated State and local government revenues of $36.6 million.
"The role that TEDCO plays in sustaining and creating Maryland's innovation economy is critical and proven," said Governor Martin O'Malley. "TEDCO is responsible for enabling almost 3,000 jobs to be created in Maryland, jobs that are helping to feed families and pay mortgages all the while working toward technological discoveries that better our everyday lives. TEDCO plays a huge role in making Maryland a national leader in technology development and life sciences, and ultimately demonstrates why Maryland is a great place to do business and call home."
The study focused on the impact of three core TEDCO programs: the Technology Commercialization Fund (TCF) which provides up to $100,000 to support companies that advance a technology toward commercial adoption; the Maryland Innovation Initiative (MII), a $5.8 million annual program to enhance and expand technology transfer and company start-ups at five Maryland universities (Johns Hopkins, Morgan State, University of Maryland College Park, University of Maryland Baltimore County and University of Maryland Baltimore); and the Maryland Stem Cell Research Fund (MSCRF), a unit within TEDCO which promotes State-funded stem cell research. The study factored in the direct, indirect and induced impacts of these programs: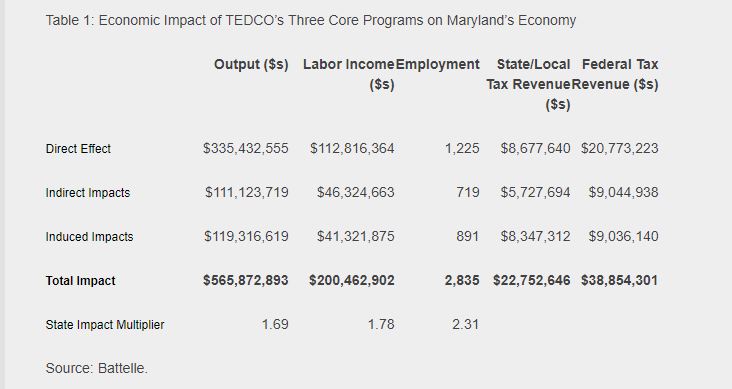 "TEDCO invests many resources into making Maryland the premier location for entrepreneurship and company formation and nothing demonstrates this commitment more than the results found in this study," said Jack Lewin, TEDCO chair. "Through just three of its funding programs, TEDCO contributes more than $565.9 million towards Maryland's economy. Considering TEDCO has more than 12 funding, support and venture capital programs, the significance of TEDCO is evident."
In TEDCO's signature TCF program, portfolio companies had a total direct employment of 1,147 jobs and estimated annual revenues of $321.3 million. This company revenue generated $539.6 million in economic activity in Maryland, supported 2,666 jobs earning $188.7 million in salaries and provided $21.7 million in estimated revenues to the State and local governments.
Looking ahead, the economic impacts associated with TEDCO's operations will increase as the portfolio of TEDCO-assisted companies grows, through both the expansion of the existing portfolio companies and the addition of new companies assisted by TEDCO programs: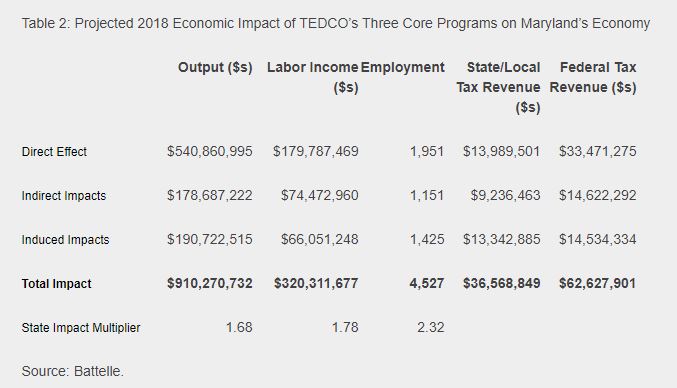 Additionally, the study determined that return on Maryland's investment is high. In FY 2013, two TEDCO programs (TCF and MII) produced a 23 percent return on investment. Based on current levels of investment in TEDCO and the projected growth of the portfolio companies assisted by TEDCO's core technology commercialization programs, the return on investment is projected to increase to 27 percent in 2018.
"Never has it been clearer: TEDCO is a vital component of Maryland's economic development strategy and technology commercialization system," said Rob Rosenbaum, TEDCO president and executive director. "The organization is a champion for Maryland entrepreneurship and early-stage business development, so every investment in TEDCO is an investment in Maryland's future. We are extremely proud of our achievements and further inspired and energized by the economic forecasting found in this report."
Since its founding in 1998, TEDCO has 234 thriving portfolio companies which have secured $601 million in follow-on funding, resulting in a leverage ratio of 48 to 1.TEDCO also has contributed $111 million to research innovation with 319 research projects funded.
The Executive Summary of Battelle's Economic Impact Study can be accessed here