Columbia
Governor Hogan appoints Tina Williams-Koroma, President, CEO of TCecure 
COLUMBIA, Md. (October 1, 2018)—TEDCO, Maryland's economic engine for technology companies, announced the appointment of Tina Williams-Koroma to the organization's Board of Directors. Tina is the president and CEO of TCecure, a Maryland-based cybersecurity services company. 
"Our administration is committed to growing our state's economy, which includes choosing quality leadership to support early-stage innovation in Maryland," said Governor Larry Hogan. "I am confident that Ms. Williams-Koroma's notable experience, as well as her entrepreneurial enthusiasm and focus on promoting STEM education initiatives, will be a significant asset to TEDCO's Board."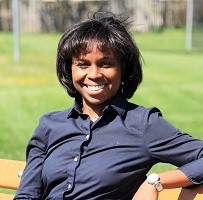 Tina Williams-Koroma is the president and CEO of TCecure, which provides security architecture, engineering, assessments, training and consulting to public sector and commercial clients. With a presence in multiple states, TCecure is also an Economically Disadvantaged Woman Owned Small Business (EDWOSB), a Small Disadvantaged Business (SDB), a Maryland Minority Business Enterprise/Disadvantaged Business Enterprise/Small Business Enterprise and a New York State MBE/Women Business Enterprise.
In addition to her role at TCecure, Tina is an Adjunct Instructor for University of Maryland Baltimore County's (UMBC) Master of Professional Studies in Cybersecurity and a member of the Maryland Bar and the NICE365 Industry Advisory Board of Directors. Prior to establishing TCecure, Tina started her career at Lockheed Martin as a software developer in the Information Systems Leadership Development Program (ISLDP). She finished her time at Lockheed as a Corporate Internal Auditor in the Business Leadership Development Program.
Tina is a former Meyerhoff Scholar and a University Scholar at UMBC, where she received a Bachelor of Science degree in Computer Science. She also holds a Master of Science degree in Management from Rensselaer Polytechnic Institute and a Juris Doctor degree from the University of Maryland's Francis King Carey School of Law.
"TEDCO is dedicated to building entrepreneurial opportunities throughout the state," said Francis Smyth, TEDCO Chairman of the Board and CEO of Century Engineering. "Tina brings an unmatched level of expertise that will help us continue our mission of growing the programs and initiatives needed to continue to put Maryland on the map."
"Entrepreneurs and researchers around the state will benefit immensely from the vision, expertise and commitment to equity of opportunity that Tina brings to the Board of Directors," said George Davis, CEO of TEDCO.
TEDCO is governed by its board, which is appointed by the Governor for four-year terms with the consent of the Maryland State Senate.
TEDCO Board of Directors and Officers
Chair, Francis Smyth, Century Engineering
Vice Chair, Myra Norton, Arena
Treasurer, Paul Ausley
Secretary, Tina Williams-Koroma, TCecure/USM Cybersecurity
Luke Cooper, Fixt
Dr. Jennifer Elisseeff, John Hopkins University School of Medicine
Newt Flower, Womble Bond Dickinson LLP
Ray Hoy, Wor-Wic Community College
Chuck Knudsen, T. Rowe Price
Matthew Lee, FASTech
Robert Lord, Protenus
Omar Muhammad, Morgan State University
John Shetrone, Vision Technologies
Amita Shukla, Vitamita
Mike Gill, MD Department of Commerce
All TEDCO board members are residents of the state and represent the nonprofit research sector, venture capital financing, technology-based businesses, the general public and colleges or universities.