Columbia
Board appointments represent expertise of Maryland's academic research institutions
COLUMBIA, Md. (October 9, 2018)—TEDCO, Maryland's economic engine for university-based, technology companies, announced the recent appointments of several esteemed members to the Maryland Innovation Initiative Board of Directors.
The Maryland Innovation Initiative (MII) was created as a partnership between the State of Maryland and five Maryland academic research institutions: Johns Hopkins University, Morgan State University, University of Maryland College Park, University of Maryland Baltimore and University of Maryland Baltimore County. The program promotes commercialization of research conducted in the partnership universities and leverages each institution's strengths.
"The funding and subsequent opportunity that MII has provided over the past six years is the kind of momentum we want to continue," said Robert Hallenbeck, MII Board Chair. "This momentum and our newest Board members are true representations of the entrepreneurial environment we are committed to growing throughout Maryland and beyond."
TEDCO's new MII Board members include:
Renee Winsky, President and CEO of Leadership Maryland and previously, President and Executive Director of TEDCO—replacing Tracye Turner, VP and COO of Optical Solutions. Renee has also been appointed to the State's E-Nnovation Fund Board by Maryland Senate President Thomas V. Mike Miller, Jr.
Wendy Martin, Director of Technology Development at UMBC—fulfilling the appointment previously held by Dr. Karl Steiner, VP of Research at UMBC, who served on the Board for more than three years.
Dr. Willie May, VP of Research and Economic Development at Morgan State University—replacing Dr. Victor McCrary, who served on the Board for over 4 years. Dr. May most recently served as the Director of National Institute of Standards and Technology.
Additionally, Nina Urban, current board member and Associate Director of JHU-FastForward, has been elected to serve as Vice-Chair of the MII Board.
Other members of the MII Board include Robert Hallenbeck, Chair, MII and E-Nnovation Fund; Dr. Mary Beth Tung, Director, Maryland Energy Administration; Julie Lenzer, Chief Innovation Officer, UMCP; Jane Shaab, Assistant VP for Economic Development, UMB.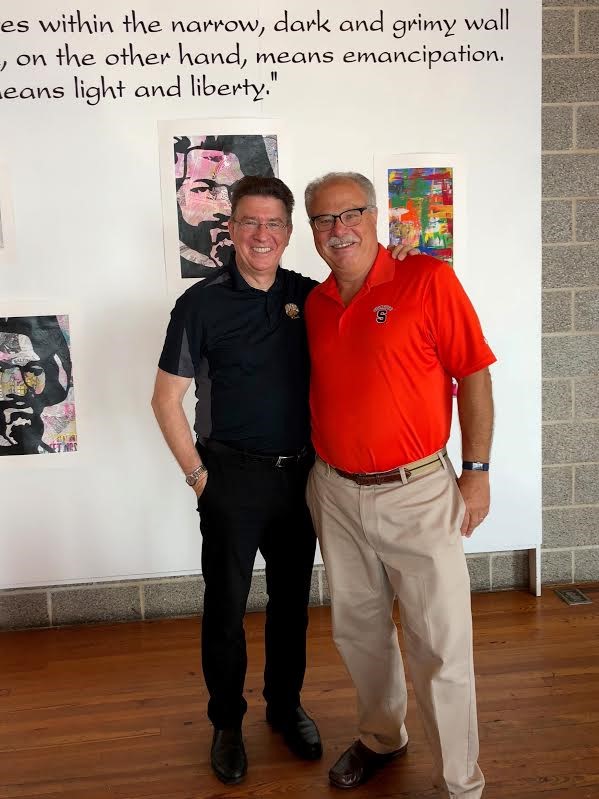 (Pictured, left to right: Karl Steiner, VP of Research at UMBC; Robert Hallenbeck, MII Board Chair)
MII recently held its annual retreat, where the Board reflected on the success of the program and how it will continue its critical work in bridging expertise across Maryland's academic research institutions. Over that past five years, MII has invested $29 million in project grants and investments and created 77 start-ups, which have in turn raised over $200 million in follow-on funding and created more than 80 Maryland-based jobs. Additionally, the program helped secure 5 exits—most notably the success of Harpoon Medical and Analytical Informatics.
As start-up companies join TEDCO's MII program, they are provided with a range of resources—from mentors and roundtables, to loaned executives. They receive the assistance and support they need as they move through team building, balancing the funding elements and negotiating deals.
"Through our recent appointments to the MII program's Board of Directors, we will build on the successes of the past six years and aim to accelerate technology transfer-based economic development for the State of Maryland," said Dr. Arti Santhanam, MII program director. "MII was created to commercialize promising technologies through the creation of new ventures, and the Board's level of expertise and leadership reflect the commitment of our partner institutions to this core mission."
For more details on eligibility and application requirements, please visit: https://www.tedcomd.com/funding/tech-transfer/maryland-innovation-initiative.