Baltimore
TEDCO's Rural Business Innovation Initiative (RBI2) announced Plum Dragon Herbs, Inc. as its first recipient to receive funding through the program. The company will be provided with ongoing mentoring and funding to continue its mission of providing conscious-forward health and wellness. The company received a $25,000 investment from TEDCO.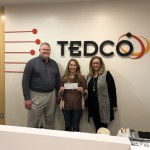 "With its recent investment in Plum Dragon Herbs, Inc. of both pre-seed funding and professional mentorship, TEDCO has become a coveted and critical partner in our company's growth and expansion," said Lisa Ball, CEO of Plum Dragon. "Investment funding will be used to improve product delivery mechanism and packaging, marketing, brand messaging, online sales funnels and e-commerce functionality. TEDCO's mentors, in addition to our professional network of attorneys, regulatory specialists, chemists and others are providing invaluable assistance in helping us merge ancient herbal knowledge with the latest scientific research and technology to provide revolutionary pain management products and health and longevity supplements to the world."
Plum Dragon, based in Chester, is dedicated to promoting the health and wellness of its people. Inspired by her own struggle with chronic illness, CEO Lisa Ball merged her passion for natural healing and wellness with her entrepreneurial spirit to bring people high-quality healing products. The company manufactures and sells a line of 100% herbal and natural topical analgesics for trauma injury and pain such as tendonitis, bruising, sprains, strains, fractures, muscle and connective tissue injuries. By carefully sourcing and showcasing the purest ingredients, Plum Dragon incorporates ancient processes to cure and create products to inspire people to live fuller and more purely.
"Jack Schammel, our Rural Business Innovation Initiative (RBI2) mentor, along with TEDCO mentors and the Maryland Small Business Development Center have been working with Plum Dragon for some time," commented Anne Balduzzi, Director of Advisory Services at TEDCO. "During this time, the company under Lisa's leadership has continued to grow their revenues and market share well beyond our expectations."
TEDCO's RBI2 program is designed to provide technical and business assistance to small companies and early-stage technology-based companies in rural Maryland. The goal of the program is to help companies overcome business and technical hurdles and advance to the next growth level. There is no cost to the company to receive assistance.
"The pre-seed investment provided by this program plays an instrumental part in taking innovative companies like Plum Dragon to the next level," said John Wasilisin, President and COO of TEDCO. "With the addition of RBI2's business support and tailored mentorship, we'll continue to help entrepreneurs build valuable companies in Maryland."
Eligible recipients work with highly trained, highly-experienced mentors who provide technical and business assistance. Eligible companies must be developing new technologies to create or expand their business, have fewer than 16 employees and have annual revenues of $1 million or less.
For more information, visit TEDCO's website at: tedco.md.