Columbia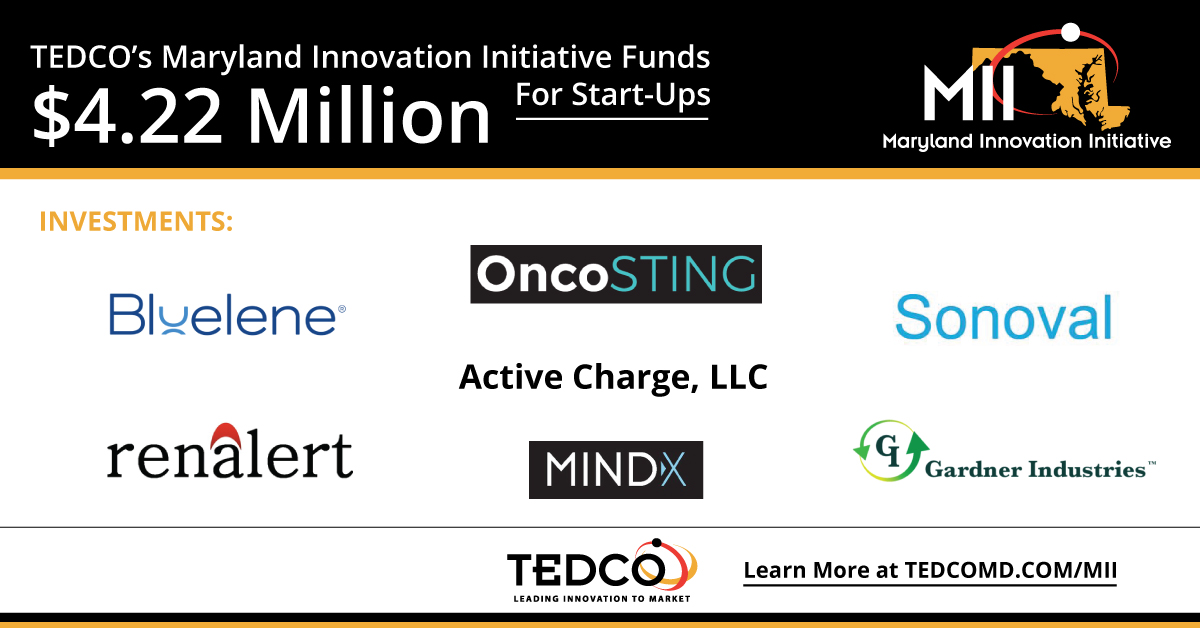 TEDCO's Maryland Innovation Initiative Funds $4.22 Million For Start-Ups 
Program accelerates technology commercialization through start-up formation
COLUMBIA, Md. (July 2, 2019)—The Maryland Technology Development Corporation (TEDCO), Maryland's economic engine for technology companies, announced its recent investments through the Maryland Innovation Initiative (MII). With the latest round of funding, MII's funding count for FY19 includes 26 technology assessment grants and seven start-up investments for a total of $4.22 million. True to its technology agnostic funding history, this year the startups ranged from Cleantech to AI and Biotech.
Established in 2012, the MII program was created as a partnership between the State of Maryland and five Maryland academic research institutions: University of Maryland, College Park, University of Maryland, Baltimore County, University of Maryland, Baltimore, Johns Hopkins University and Morgan State University. The program's mission is to accelerate promising technologies with significant commercial potential to market while leveraging each partner University's strengths. 
"TEDCO is committed to supporting start-ups through each step of their early-stage process, and MII is an ideal representation of the kind of support and guidance these companies can leverage to jumpstart their innovative products." said George Davis, CEO of TEDCO. 
The seven MII-funded companies that received investments include: 
Magic Blue: Magic Blue, located in Bethesda, developed a skin care line using methylene blue which has been found to extend the life span of individual skin cells to improving overall skin connective tissue/wound healing. (UMCP)
Renalert, LLC: The Renalert System, located in Baltimore, provides early detection of the onset of acute kidney injury through novel analysis of a patient's urine output, blood pressure and oxygenation status. (JHU)
Gardner Industries: Gardner Industries, located in Baltimore, developed The Substrate Cage™ line of research analytical tools that enables academic and pharma researchers to make real-time rapid measurements of microbial growth and/or enzyme activity with no lag time in data acquisition. (UMBC)
Mind-X Corp: Mind-X, located in Bethesda, is combining neurotechnology, augmented reality and artificial intelligence to create a 'look-and think' interface for next-generation spatial computing applications. (JHU APL)
Sonoval, LLC: Sonoval, located in Baltimore, is developing a breakthrough anti-cancer biologic drug therapy for the treatment of a variety of T-cell lymphomas and major solid tumors. (JHU)
ActiveCharge, LLC: "ActiveCharge™," located in Baltimore, is a system that can effectively harvest wasted vibrational/kinematic energy and convert it to electrical energy for battery free sensor operation in wind powered turbines. (UMBC)
OncoSTING: OncoSTING, located in Baltimore, is developing novel bladder cancer therapies that work by combining the potency of standard BCG immunotherapy with long-lived delivery of potent STING agonists. (JHU)
An additional seven startups have spun out of promising technology grants through the MII program – Fzata, Inc., Adarga Pharmaceuticals LLC, Agile life Sciences, Inc., TrAMPoline Pharma, ERADA Technology Alliance Ltd, AliquantumRx Inc. and Sonavi Labs.
"We at the TEDCO Board are continually blown away by the ingenuity of the scientists in our universities and the breadth of technologies that we see come through the program that impacts lives of consumers and patients everywhere," said Robert Hallenbeck, MII Board Chairman. "In fact, the MII fund was named by the Milken Institute Report as one of the programs helping Maryland retain 3rd place ranking on the State Technology and Science Index."
In the seven years since its launch, MII has disbursed $33M and spun out 83 startups resulting in over $272M in follow-on funding for these investments and seven exists. In total, these companies have created 90 jobs with an average salary of $97,000.
"The MII fund is truly a unique instrumentality of the State that drives impactful tech transfer and creates a superior de-risked growth-oriented start-up ecosystem," stated Dr. Arti Santhanam, MII Executive Director. "The metrics of success achieved by our portfolio companies are a direct reflection in the quality of the technologies we invest in and the shared goals of our partner Universities."
For more details on eligibility and application requirements please visit https://www.tedcomd.com/funding/tech-transfer/maryland-innovation-initiative.