Columbia
TEDCO Talks episodes spotlight the various resources in Maryland's thriving entrepreneurial community
COLUMBIA, Md. (July 6, 2021)—TEDCO, Maryland's economic engine for technology companies, released its 25th episode of its virtual series with CEO, Troy LeMaile-Stovall, called TEDCO Talks. The series features LeMaile-Stovall interviewing various thought leaders with connections to Maryland's innovation ecosystem. 
The past 25 thought-provoking conversations have provided a platform for Maryland's entrepreneurs to learn more about the various resources and thought leaders supporting the community. The TEDCO Talks videos use a "fireside chat" format and cover a full range of topics, such as advice to small businesses dealing with COVID-19, available funding programs and benefits, diversity and inclusion, and more.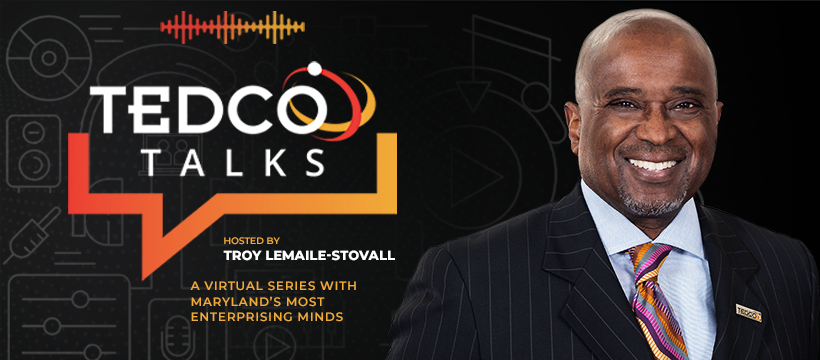 "I've enjoyed getting to know, and for some reconnecting, each and every one of these innovative thought leaders within my first year as TEDCO's CEO," said LeMaile-Stovall. "With so many relevant initiatives and resources being offered to our entrepreneurs throughout our region, it's important for us to work together to scale and sew our funding and foundations to better serve the entire entrepreneurial community." 
In these engaging discussions, LeMaile-Stovall has interviewed leaders from a variety of organizations—including county economic development corporations, business chambers, higher education, and technology councils—about the emerging trends, challenges, and opportunities facing our region.
Among others, recent featured guests have included: 
"We wanted this informative and oftentimes fun content to be easily accessible to the public, so listeners can catch up on all of the latest episodes at no cost on TEDCO's YouTube Channel," stated Tammi Thomas, TEDCO's chief marketing & communications officer and executive producer of TEDCO Talks. "For all of our Maryland entrepreneurs and beyond, this is a resourceful and cost-effective way to learn about significant programs and players in state's innovation ecosystem that can help them grow their businesses."
TEDCO Talks can be viewed on the YouTube channel at https://www.youtube.com/user/MDTEDCO. New videos will be added on a regular basis so check frequently for updates.
 
# # #