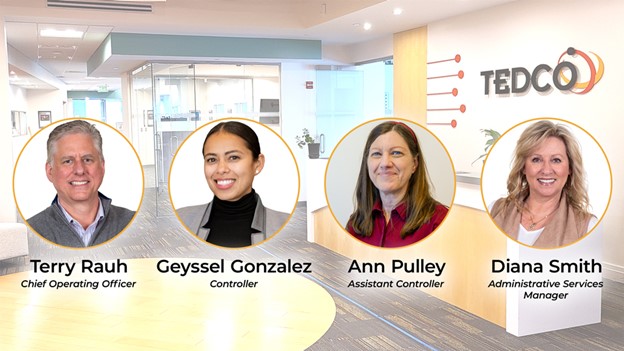 As the hub of Maryland's innovation ecosystem, TEDCO's mission, vision and five core values—accountability, collaboration, integrity, respect, and stewardship—are central to all we do. Today Chief Operating Officer Terry Rauh talks about the value of integrity as it relates to the operations team.
Integrity is valued across TEDCO; it's absolutely essential for the team leading the internal control, business operations and accounting for an organization. I appreciate the opportunity to work at an organization that is very clear about what integrity looks like at TEDCO: We provide the best quality service to all stakeholders and strive to exceed expectations. We pursue innovation and entrepreneurial success with the highest regard for moral, ethical and inclusion standards. We stand by what we say and what we do, and we always act in an honest and open way.
 
Our operations team has a shared commitment to integrity in all its forms, whether it's adhering to a common set of rules, standards and procedures for accounting practices and financial statements, or acting in an honest and open way with colleagues. To be clear, integrity does not require perfection at every moment; it does require setting high standards, being honest and open about unclear items or mistakes, and acting in an ethical way to ensure continued adherence to high standards.  
I'm proud that our operations team models TEDCO's commitment to integrity—here are some examples of what that looks like in action. 
As our controller, Geyssel Gonzalez is responsible for providing leadership and staff with accurate and timely real-time financial information to guide decision making and successful program management. Geyssel pursues innovation with her passion to bring technology and automation to TEDCO's accounting processes, just as she did in prior roles at the Nuclear Energy Institute and the International Association for Dental Research.
Ann Pulley, our Assistant Controller, brings over 30 years of accounting experience to TEDCO. At TEDCO, Ann's work includes operational improvements, the annual budget process, periodic forecasting, periodic analysis of operations performance, and the annual and triennial audits. She has the highest regard for the moral, ethical and inclusion standards that are essential to audit, budget and finance practices. 
With a background in managing all aspects of daily operations, Diana Smith brought extensive experience to TEDCO. In her role as Administrative Services Manager, Diana works to provide the best quality service to all stakeholders, serving as IT Systems liaison, managing phone systems, monitoring inventory and purchases, and handling vendor contract negotiations and maintenance, as well as working closely with the CEO, the Assistant Controller and executive teams. 
While our operations work is often behind the scenes, that doesn't make it any less essential. In fact, as any successful entrepreneur will tell you, the best business ideas and products need to be supported by high quality, ethical operations. Integrity underpins everything our operations team does here at TEDCO; I'm proud of our commitment and contribution to the important work TEDCO does to enhance economic empowerment by fostering an inclusive and entrepreneurial innovation ecosystem. 
 To learn more about TEDCO's mission, vision and values, visit our website.
Tammi Thomas is the Chief Marketing & Communications Officer at TEDCO.