Columbia
The Maryland Technology Development Corporation (TEDCO) announced today that five companies received a total of $600,000 in seed funding.
"At TEDCO, we help transform innovative life science and technology businesses into high growth companies," stated TEDCO CEO George Davis. "TEDCO provides entrepreneurs with capital, connections, and coaching. In terms of capital, TEDCO invests in companies across stages – seed through growth."
TEDCO's seed fund supports innovative, technology-based companies doing business in Maryland.  The new seed fund portfolio companies are:
Adaptive Phage Therapeutics, Inc., located in Gaithersburg, is developing PhageBank® a library of bacterial viruses that treat antibiotic resistant bacteria infections. ($100K)
Ataata, Inc., located in Bethesda, creates a cybersecurity education platform used to mitigate cyber-threats caused by human error in the workplace. ($200K)
ValuNav, LLC, located in Edgewater, is a leading (alternative) analysis and group decision-making solution that helps companies determine the most optimal choices for their resource alignment.  Its cloud-based software platform makes it easy for all stakeholders to contribute their preferences while weighing the multiple alternatives and their associating performance to a company's portfolio; ultimately optimizing value, increasing decision making transparency and aligning resources for better execution. ($100K)
TrackOFF, Inc., located in Baltimore, has a privacy management tool that disrupts digital-fingerprinting tools by injecting data inputs with false information. ($100K)
Zuul, Inc., located in Columbia, offers cybersecurity protection for the industrial internet of things. ($100K)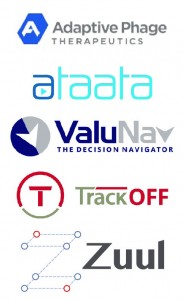 "We are thrilled to have TEDCO join team Ataata as a key investor and partner in our Series A round," stated CEO Michael Madon, Ataata. "As the hub of Maryland's entrepreneurial network, we look forward to leveraging TEDCO's deep resources to help us accelerate customer-driven product development and solidify our position as a leader in cyber security awareness training. We view TEDCO as more than a funding resource – it is a critical partner on our roadmap for success."
"ValuNav is excited to have TEDCO as a lead investor and partner at this early stage of our company," stated ValuNav's Founder and Chief Decision Officer, Christopher Landon.  "We will use their seed investment to propel our enterprise and government sales as well as our marketing and customer efforts. We are looking to expand our commercial team dedicated to helping our current and future customers make better, more transparent and more inclusive value-driven decisions.
"Adaptive Phage Therapeutics is thrilled to have the validation and financial support of TEDCO," said Greg Merril, CEO of APT. "As a clinical-stage company, APT is working to provide an effective therapeutic response to the global rise of antibiotic resistant bacterial infections. TEDCO's support is allowing us to accelerate our efforts in launching our Phase I clinical trials."
"It's critical that a company at our stage is able to attract talented individuals to quickly and effectively scale," said Chandler Givens, TrackOFF CEO. "There are so many great candidates in this area, and with TEDCO's investment and guidance, we're excited to expand our team and begin offering TrackOFF across new platforms in 2018."