Columbia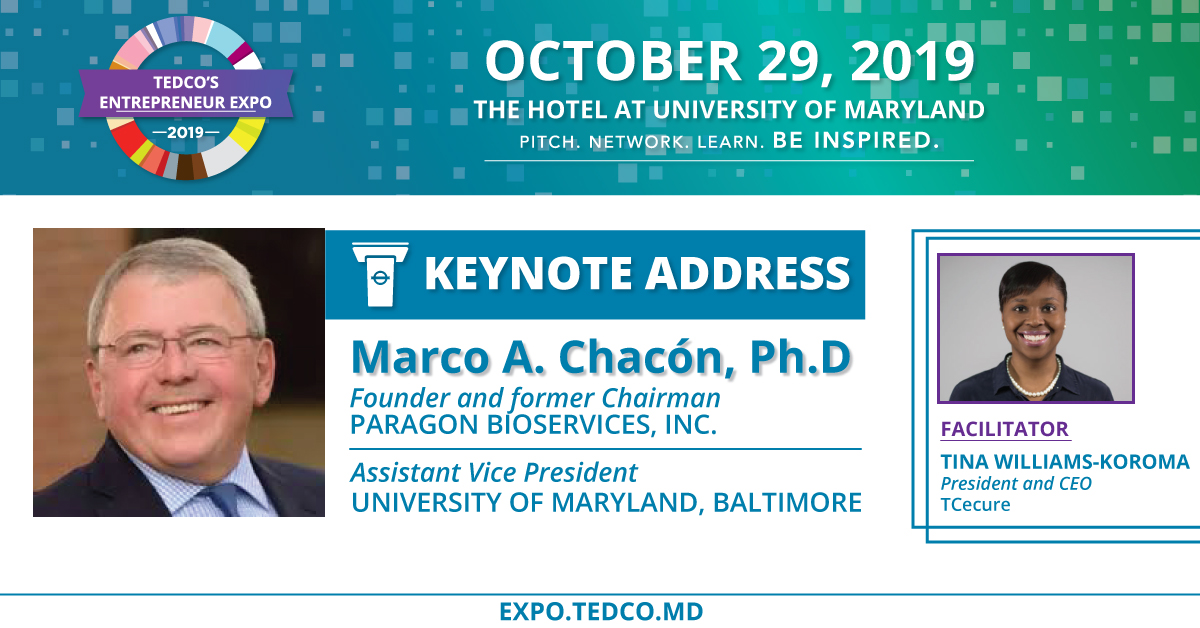 Marco A. Chacón, founder and former chairman of Paragon BioServices, and assistant vice president of Industry Alliances at the University of Maryland, Baltimore
COLUMBIA, Md. (August 7, 2019)— The Maryland Technology Development Corporation (TEDCO), Maryland's economic engine for technology companies, announced today the lunchtime keynote speaker for its annual Entrepreneur Expo, Paragon BioServices' and the University of Maryland, Baltimore's Marco A. Chacón. For the second year in a row, the Expo will take place at The Hotel, University of Maryland's newest hotel and conference facility, on Tuesday, October 29.
"This marks the 9th year of TEDCO's Entrepreneur Expo and it promises to be an extraordinary event as we celebrate Maryland's unmatched entrepreneurial spirit," said president and CEO of TCecure and TEDCO vice chair of the board, Tina Williams-Koroma. "I'm excited to be a part of the TEDCO Expo and looking forward to facilitating the keynote address from Dr. Chacón."
TEDCO's annual Entrepreneur Expo was established to spotlight entrepreneurship in the region by bringing together Maryland's various resources for a day of celebration. The Expo draws more than 900 of the region's top entrepreneurs, business owners, innovators, angel and venture capital investors and legislators. The event offers workshops, roundtable discussions and exhibitors that showcase the resources to help entrepreneurs learn, connect and be inspired.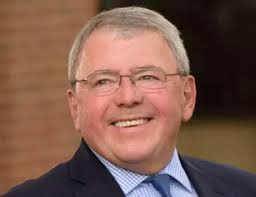 Marco A. Chacón, Ph.D. is the Assistant Vice President of Industry Alliances at the University of Maryland, Baltimore. As a seasoned biopharmaceutical executive and entrepreneur, Dr. Chacón works with the leadership team at UMB leading special projects to grow the BioPark tenant base and to strengthen the University's research collaborations with industry.
Dr. Chacón is the Founder and former Chairman of Paragon Bioservices, Inc., a Contract Development and GMP Manufacturing Organization (CDMO) that specializes in the development and GMP manufacturing of viral vectors for gene therapy and vaccines. The company was acquired in May 2019 by Catalent Pharma Solutions— a multinational company with headquarters in Somerset, New Jersey.
Becoming "Catalent-Paragon Gene Therapy", the combined organization currently employees 700 individuals deployed at three Maryland plants, including: The UMB-Biopark in Baltimore, Anne Arundel County and Rockville.
Dr. Chacón is also the Founder of IRAZÚ Biodiscovery, a regenerative medicine company seeking to develop therapeutic interventions to induce hypoxia tolerance and neuroprotection as described in experimental models of caloric restrictions and hibernation, as well as during the neonatal period in mammals.
Dr. Chacón received a B.S. degree from Youngtown State University and a Ph.D. Degree from University of Maryland, College Park. He currently serves on the Board of Trustees of the UMB Foundation and was appointed in 2016 to the Life Sciences Advisory Board by Governor Lawrence J. Hogan, Jr.
TEDCO is also pleased to announce the morning keynote speakers will be Justin Klein, MD, JD, co-founder and managing partner at Vensana Capital, along with Bob Ackerman, founder of AllegisCyber Capital.
For more information and tickets, please visit expo.tedco.md.