Columbia
Associate Director of the Maryland Stem Cell Research Fund at TEDCO selected as one of 31 honorees across the State
COLUMBIA, Md. (October 9, 2020)—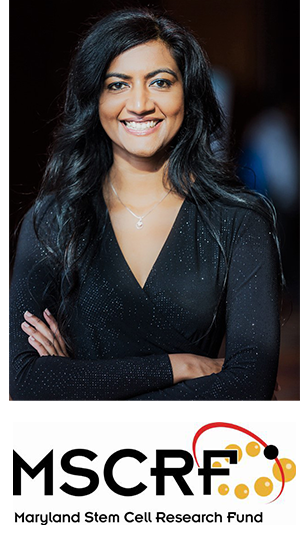 The Daily Record selected Dr. Amritha Jaishankar, Associate Director of the Maryland Stem Cell Research Fund (MSCRF) at TEDCO, to receive one of the 2020 Leading Women awards.
The Daily Record's Leading Women awards honor women who are 40 years of age or younger for the accomplishments they have made so far in their careers.
"The Commission is thrilled that Dr. Jaishankar is being recognized with the 2020 Leading Women Award," said Dr. Debra Mathews, Chair of the Maryland Stem Cell Research Commission (Commission). "Amritha is indispensable to the Commission and has been critical to the stem cell field and its ecosystem of academics and companies in Maryland. I have no doubt that her ongoing work will allow us to continue to make advances in human stem cell research, develop therapies, and also drive economic development."
The Daily Record launched the Leading Women awards in 2010 to recognize the next generation of Maryland's women leaders. 
"TEDCO is honored to celebrate Dr. Jaishankar's accomplishments, inspiring many other leaders across the State," said TEDCO's CEO, Troy LeMaile-Stovall. "Dr. Jaishankar, along with all of this year's honorees, truly exemplifies an inspiring role model through leadership, mentoring and professional achievements."
A panel of previous Top 100 Women and Leading Women winners selected the honorees based on their professional experience, community involvement and commitment to inspiring change.
"This year's Leading Women are professionally accomplished, involved in their communities and committed to making a difference and inspiring change," said Suzanne Fischer-Huettner, group publisher of The Daily Record. "They are the next generation of leaders in Maryland, and The Daily Record is pleased to recognize their achievements."
The winners will be honored Dec. 1 at a virtual celebration from 6 to 7 p.m. at https://thedailyrecord.com/leading-women/. Each of the winners will be celebrated for their achievements through video storytelling. Guests will have the opportunity to participate in the program with their congratulations and cheers using social media platforms from their homes or offices. For tickets, visit https://thedailyrecord.com/leading-women/. The event hashtag is #TDRevents.
Winners will be profiled in a special magazine that will be inserted into the Dec. 2 issue of The Daily Record and available online at www.TheDailyRecord.com.
Sponsors of The Daily Record's 2020 Leading Women awards include Recognition Sponsor Keswick and Virtual Celebration Sponsors Epsilon Registration and VPC, Inc. Bank of America and Keswick are Diamond Anniversary Sponsors for the 25th anniversary of Maryland's Top 100 Women in 2020.
For more information about sponsorships and tickets for The Daily Record's 2020 Leading Women awards, visit www.TheDailyRecord.com or call 443-524-8161.
About The Daily Record
Celebrating 132 years of journalistic excellence, The Daily Record is a multimedia news source that publishes a print and online edition five days a week and breaks news daily on its website, TheDailyRecord.com. In addition, The Daily Record publishes more than 30 special products a year including Women Who Lead, Doing Business in Maryland, Way to Be and Expanding Opportunities. The Daily Record also honors leading Marylanders through 10 annual awards events including Maryland's Top 100 Women, Influential Marylanders and Most Admired CEOs. Its Digital Marketing Solutions helps customers with social media, search engine marketing and optimization, retargeting, email marketing and more. The Daily Record is part of BridgeTower Media, one of the country's leading business-to-business media companies with 44 print and digital publications in more than 20 U.S. markets.
About the Maryland Stem Cell Research Commission 
The Maryland Stem Cell Research Commission is focused on identifying and fostering cutting-edge research and innovation in the field of regenerative medicine in Maryland. Our Accelerating Cures initiative comprises programs that help transition human stem cell-based technologies from the bench to the bedside as well as mechanisms to build and grow stem cell companies in Maryland. Visit us at www.mscrf.org to learn more about our funding opportunities.