Columbia
Pilot offers critical skills building for women STEM entrepreneurs 
COLUMBIA, Md. (August 8, 2022)—TEDCO, Maryland's economic engine for technology companies, announced today the launch of the Leading Women's Program in collaboration with Montgomery County Economic Development Corporation (MCEDC). Located at the Universities at Shady Grove (USG), TEDCO and MCEDC are creating a community of entrepreneurs to support each other and provide a best-in-class entrepreneur leadership development program focused on building critical skills that foster resilience.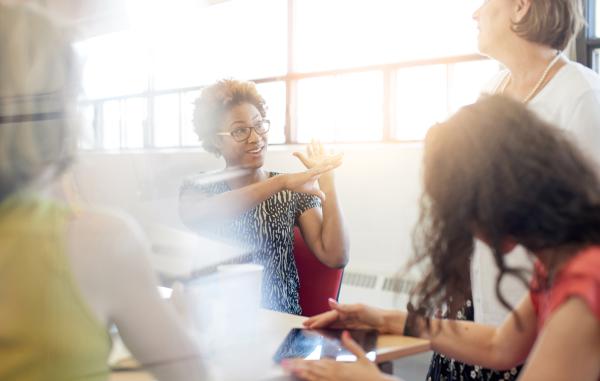 The 10-month pilot program will be a combination of virtual and in-person courses held at the Universities at Shady Grove in Rockville, Md., bringing together 25 entrepreneurial leaders in a cohort to develop a network of peer advisors and a community that seeks collaboration.
"Our TEDCO team encourages Montgomery County-based female founders and CEOs working in the start-up tech and life sciences space to apply for this exciting new growth opportunity," said Linda Singh, executive director for TEDCO's Women Entrepreneur Leadership. "Here at TEDCO, we find the cohort model of great benefit to women leaders seeking to collaborate and grow their networks. Utilizing tools from other TEDCO programs, we envision great success and growth for Leading Women's Program participants." 
"MCEDC is excited to partner with TEDCO on a program created for our county's women-led tech start-up community," said Bill Tompkins, executive vice president and chief operating officer. "This new program shines a spotlight on the innovative women entrepreneurs who choose to start and grow their companies in Montgomery County. I ask county residents and businesses to share information about the program and encourage eligible tech entrepreneurs to apply."
To be eligible for the cohort, applicants must be a founder, co-founder, or CEO whose company is at a minimum of pre-seed to growth stage and a maximum of pre-series A. While the program is designed for Montgomery County-based business owners, entrepreneurs located outside of Montgomery County will be considered based on available slots. The application deadline is September 10, 2022 and is limited to 25 participants. There is no cost to apply; upon being accepted registrants pay a $250 registration fee, most of which is refunded upon competition of the program. 
"One of our core values here at TEDCO is collaboration; we view programs like the Leading Women's Program as essential in our pursuit of supporting innovation and entrepreneurial excellence," said Troy LeMaile-Stovall, TEDCO CEO. "We're excited to work with our Montgomery County partners and these early-stage technology and life sciences company leaders—their work is essential to the future success of our state."
Montgomery County is Maryland's most populous county with women-owned businesses continuing to fuel the economy. In the state, 42% of all businesses are women-owned, employing 9.4 million workers and generating revenue of $1.9 trillion.
"We are excited to be working with TEDCO to support Montgomery County women entrepreneurs," said Sarah Trujillo, strategic media & communications manager at MCEDC. "The Leading Women's Program will provide business leaders a network to collaborate with, learn from and grow alongside. MCEDC is proud to support business owners across the county and help them cultivate their own success."
For more information on requirements, how to apply and to view the request for applications, visit the website at https://www.tedcomd.com/women-programs#moco.