Columbia
Developing a next-generation EV charger
COLUMBIA, Md. (August 11, 2022)—TEDCO, Maryland's economic engine for technology companies, announced today that its Rural Business Innovation Initiative (RBII) made a $25,000 investment in Frederick-based Pirl Technology, which is developing Electric Vehicle (EV) chargers that contribute to combatting climate change and protecting the environment. 

"Congratulations to the team at Pirl Technology, who are responding to market demand for more electric vehicles with this essential companion product," said Chuck Ernst, RBII mentor, western Maryland region, TEDCO. "We hope that TEDCO's investment helps advance their EV chargers to the next level, and we'll be here to offer advice and help them overcome hurdles along the way."
Pirl Technology, founded by Kobby Osei-Kusi, is building next-generation high-speed EV chargers that are field-repairable, deploy the latest internet-of-things (IoT) technology, and create meaningful engagement with the user. 
"We're excited for the support from TEDCO to accelerate our product development and pilot deployments," said Osei-Kusi. "Maryland is taking big steps to address climate change and we're delighted to be building here."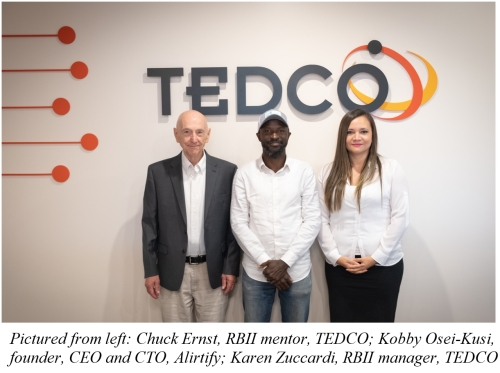 "TEDCO's RBII program was created to support the success of rural innovators like Pirl Technology's founder Kobby Osei-Kusi," said TEDCO CEO Troy LeMaile-Stovall. "Here at TEDCO, we want to make sure startup founders with great ideas find the support they need to take their products to the next level, no matter where in Maryland they're located."
TEDCO's RBII is designed to enhance technology commercialization and provide technical and business assistance to small and early-stage companies in rural Maryland. To learn more about mentoring and funding opportunities from RBII, visit https://www.tedcomd.com/resources/rural-business-innovation-initiative.