Columbia
Total of 24 Maryland companies to receive expert advice and proposal support
COLUMBIA, Md. (January 31, 2023) – TEDCO, Maryland's economic engine for technology companies, announced the selection of 24 Maryland companies to participate in the FY2023 FAST SBIR/STTR Proposal Lab cohort. This program, now in its fifth year, supports companies in the cohort, allowing them to work closely with TEDCO experts on preparing polished proposals for up to $275,000 in federal awards through the SBIR/STTR Phase 1 program. The companies in this year's cohort encompass a variety of technology disciplines, from medical devices to quantum computing to even biomanufacturing.
"TEDCO is dedicated to supporting innovators throughout Maryland. As such, we continue to look for new ways to improve their chances of success—that's what our Proposal Lab is for," said TEDCO CEO Troy LeMaile-Stovall. "Through this program, TEDCO can work to increase the chance Maryland companies' success when applying for the SBIR/STTR funding opportunities."
What is SBIR/STTR?
The Small Business Innovation Research (SBIR) and Small Business Technology Transfer (STTR) programs, housed in 12 federal agencies and coordinated by the U.S. Small Business Administration, are the Nation's largest source of non-dilutive government early stage/high-risk funding for startups and small businesses. These highly competitive programs are designed to encourage small businesses with potential for commercialization to engage with Federal Research/Research and Development (R/R&D). The awards-based program enables small businesses to explore their technological potential while providing an incentive to profit through commercialization.
Proposal Lab Participation Leads to Higher Success Rates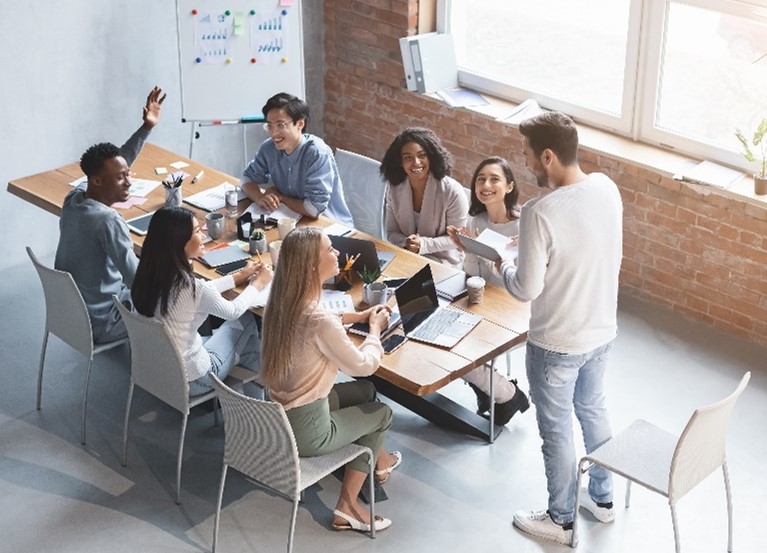 Companies selected to participate in TEDCO's Proposal Lab and submit proposals are, on average, seeing an award rate of 39%. This is more than double the national average of 15% for Phase 1 SBIR awards. In partnership with the Rockville, Md woman-owned OST Global Solutions, this six-month lab will connect companies with experts from TEDCO's Network Advisor program; these experts will provide the cohort with actionable feedback through two proposal reviews, thereby increasing the company's likelihood of award. 
Throughout the proposal lab, TEDCO will bring in experts from selected government SBIR/STTR program offices to provide information and answer questions on everything from timing, to writing style, and to what makes a proposal compelling. 
"The SBIR program is a wonderful opportunity for companies to be awarded non-dilutive funding to further their innovation research; the program attracts numerous applicants, making it extremely competitive," said Kim Mozingo, director of TEDCO's Federal Programs. "But through our Proposal Lab, we give companies the tools, education, and guidance they need to ensure their applications have the best chance for success."
The 24 Maryland Companies Selected for the FY2023 Cohort
Aligned IT, LLC, based in Pikesville, Md., focuses on providing consulting expertise in areas of data analytics, software product management and development, planning and execution of IT roadmaps, alignment of business and technology, managing IT steering committee and enhancing portfolio management, and improving business architecture and business analyses. 
Advancing Synergy, based in Clarksburg, Md., is a business working to eliminate health disparities by leveraging subject matter expertise with existing tools and technologies to offer project management and strategic support. 
CurieDx, based in Baltimore, Md., seeks to alleviate some of the frustration and stress that comes with having a sick child through delivering AI-driven medical diagnosis from the comfort of home.
Datalytica, based in Laurel, Md., is a company offering expertise in computational sciences and cybersecurity.
Djit Medtech, LLC, based in Baltimore, Md., is a business that is looking to develop new medical technology to relieve pain and preserve motion for various hand arthritis patients.
Electro-Media Design, Ltd., based in Gaithersburg, Md., offers a full range of AudioVisual systems design and acoustical consultation.
Emission Strategies Inc., based in Severna Park, Md., is a business working with artificial intelligence and machine learning capabilities.
Gmork Tech LLC, based in Hagerstown, Md., is a business working to provide other businesses with automation solutions, communication systems, and future facing web-technologies.
Healable, based in Rockville, Md., is a minority owned startup in the health technology industry that provides a communication and collaboration platform for health care providers to effectively communicate with their patients.
Kubanda Cryotherapy, Inc, based in Baltimore, Md., is a business focused on providing affordable, accessible, and reliable treatments for pets with cancer through the use of cryoblation.    
Lightwork Publishing LLC, based in Aberdeen, Md., is a business that provides career readiness workbooks for graduating high school students and their parents. 
Maritimatix, based in Cambridge, Md., that provides products and services designed to have an environmental benefit through the use of sustainable technology or social benefit for maritime communities.
Myriddian LLC, based in Savage, Md., is a minority-owned business providing assistance with project management, healthcare operations, data analytics, communications, and more.
PrecNA LLC, based in North Potomac, Md., is a biomanufacturing company.
Pretzl, LLC, based in Reisterstown, Md., is a business providing learning and cognition technologies.
Sciens Innovations LLC, based in York, Md., provides personalized solutions for product development. 
SeeTrue Technology, LLC, based in Baltimore, Md., created a revolutionary needle that will reduce clogging, cell adherence, and tissue damage through its high-tip visibility and directional targeted injection technology.    
Second Star Robotics, based in Silver Spring, Md., is a company creating low cost, durable, autonomous ocean observer platforms in an effort to observe and learn more about ocean life.
Slip Signal Technologies LLC, based in Mitchellville, Md., is a semiconductor design and consulting startup company with the mission to revolutionize digital logic through the development of technology that natively reduces self-generated electromagnetic emission from digital logic processes.     
TRI-IT Solutions, based in Randallstown, Md., provides individuals with valuable business connections. 
UCleaner LLC, based in College Park, Md., is looking to revolutionize the dentistry industry through bioengineering dentistry 3D printing fluid mechanics medical/dental devices.
University Startups, based in Gaithersburg, Md., is a business teaching high school students and their communities an entrepreneurial mindset.
Vision Planning and Consulting, based in Fulton, Md., is a minority, woman-owned GSA Schedule firm specializing in public outreach, planning, grants management, and emergency management. 
Wave Welcome, based in Oxon Hill, Md., is a business working in the fields of cyber analytics and artificial intelligence.