Columbia
Greater Baltimore Committee celebrates award winners at November 17 ceremony
COLUMBIA, Md. (November 18, 2022)—TEDCO, Maryland's economic engine for technology companies, announced today that its Maryland Innovation Initiative (MII) and Linda Singh, Executive Director of TEDCO's Women Entrepreneur Leadership, were winners at the Greater Baltimore Committee (GBC)'s Bridging the Gap Achievement Awards ceremony on November 17, 2022. TEDCO's MII was recognized in the Innovative Partnership/Strategic Alliance category, while Linda Singh received the Mentorship award. 
Bridging the Gap Achievement Awards are issued annually to recognize exceptional majority, minority and women-owned businesses and executives who nurture the development of minority and women-owned businesses in Greater Baltimore and Maryland. The November 17 event was held at Morgan State University, where the GBC recognized 19 businesses and executives in the following categories: Successful Minority- or Women-Owned Business, Diversity in Leadership, Innovative Partnership or Strategic Alliance, Community Impact, and Mentorship.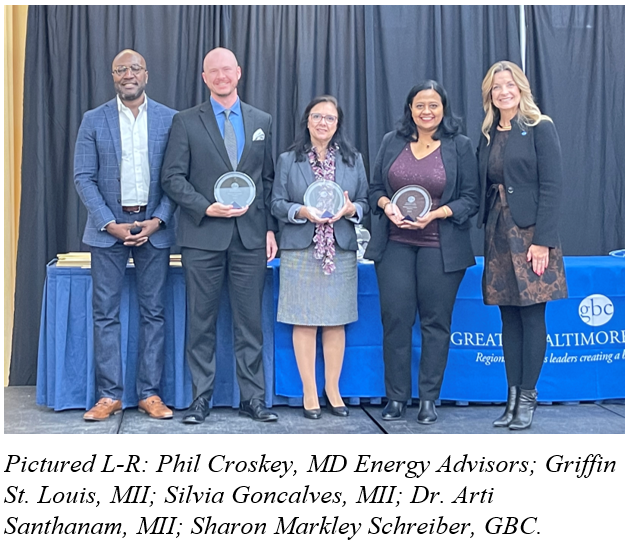 TEDCO's Maryland Innovation Initiative (MII) includes the MII fund, which invests in commercialization and start-up science and tech companies that are spun out of five participating universities: Johns Hopkins University, Morgan State University, and the University of Maryland's College Park, Baltimore and Baltimore County campuses. Established in 2012, MII has invested $47.5M that has resulted in 144 startups, $692M in follow-on funding and 7 exits to date.
"All of us at TEDCO and MII appreciate this Bridging the Gap Achievement Award in the strategic alliance category, as it recognizes our collective work to build a diverse, vibrant tech-based entrepreneurial community here in Maryland," said Dr. Arti Santhanam, Executive Director of MII. "We're very proud of our collaboration with some of Maryland's outstanding higher education partners, and look forward to continued work with university-based innovators and more business creation in the years ahead."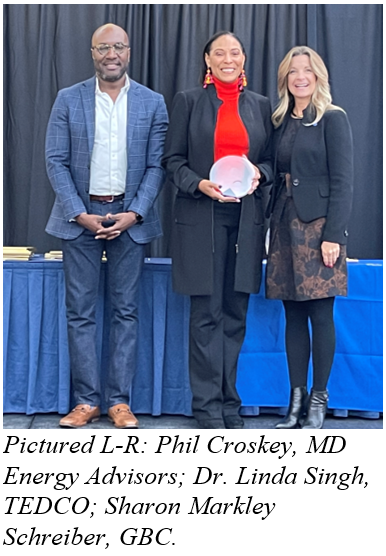 Dr. Singh has a history of mentorship, including her 38 years with the Maryland National Guard, where she retired as a Major General. She personally mentors, coaches, and speaks on leadership, diversity, adversity, career transition and other issues that plague women and veterans in the workplace. Most recently Dr. Singh has developed two new programs for Maryland's women entrepreneurs: the Open Institute for Black Women Entrepreneur Excellence in Howard County and the Leading Women's Program in Montgomery County. The pilot programs will support entrepreneurs in building critical skills, expanding their networks, and successfully growing their businesses. 
"I am grateful to the Great Baltimore Committee for recognizing not only my work but the importance of mentorship in fostering an inclusive innovation economy here in Maryland," said Linda Singh, executive director for TEDCO's Women Entrepreneur Leadership Program. "I congratulate all the Bridging the Gap Achievement awardees and look forward to a new year of mentorship with the entrepreneurs participating in TEDCO's two new programs, the Open Institute for Black Women Entrepreneur Excellence and the Leading Women's Program."