Columbia
Maryland tech start-up developed a platform that manages wellness data for employers and families
COLUMBIA, Md. (April 7, 2022)—TEDCO, Maryland's economic engine for technology companies, announced today its Builder Fund invested $100,000 in Safe Check, a technology start-up based in Maryland. TEDCO's Builder Fund invests in and provides executive support to Maryland-based technology companies run by entrepreneurs who demonstrate economic disadvantage.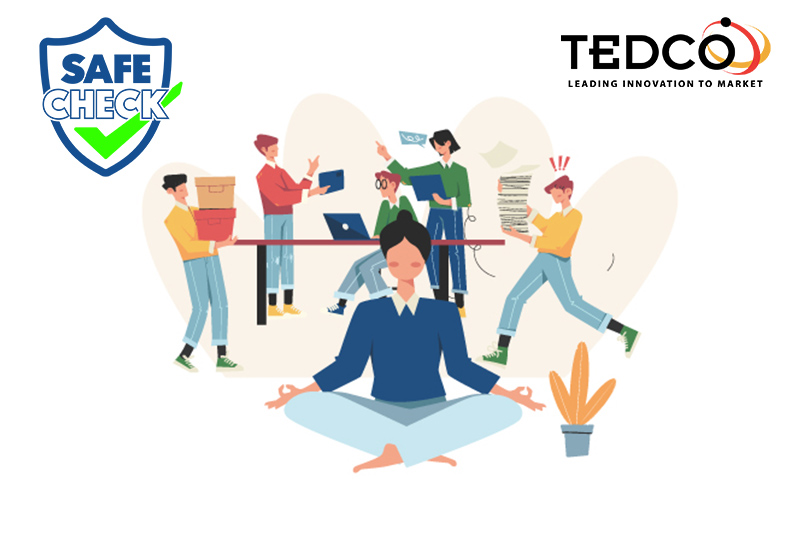 "Safe Check is an innovative technology ecosystem that supports public response, HR wellness functions, and business continuity. The future is gathering wellness data from employees to make executive decisions for safety," said Jerrod Moton, CEO of Safe Check. "TEDCO's investment will help bring our Safe Check software to market and support the public health response to infectious diseases now and in the future."
Safe Check, based in Potomac, Md., developed the Safe Check Software as a Service (SaaS) platform that provides employees and consumers with a mechanism to easily share their wellness data with their employers, other businesses, and family members. Employers can use the platform to track employees' wellness data, including temperature, COVID test, symptom questionnaire, and vaccination data, using it to inform business continuity decisions. This solution will continue to add value to businesses and streamline data in a post-COVID world.
"The current pandemic has driven home the need for health checks of visitors and employees to facilities," said Jean-Luc Park, senior director of Social Impact Funds at TEDCO.  "Safe Check facilitates the collection, security, and maintenance of this wellness data to provide compliance for facilities, as well as the health status of people entering the building.  This will help in protecting against future epidemics." 
For entrepreneurs applying for their first investment from TEDCO's Builder Fund, their company must be based in Maryland and led by a disadvantaged founder(s). For information on how to access TEDCO's Builder Fund investment application, visit https://www.tedcomd.com/funding/builder-fund.