Columbia
CyDeploy offers an AI cybersecurity testing system
COLUMBIA, Md. (March 25, 2022)—TEDCO, Maryland's economic engine for technology companies, announced today its Builder Fund invested $100,000 in CyDeploy, a technology start-up based in Maryland. TEDCO's Builder Fund invests in and provides executive support to Maryland-based technology companies run by entrepreneurs who demonstrate economic disadvantage.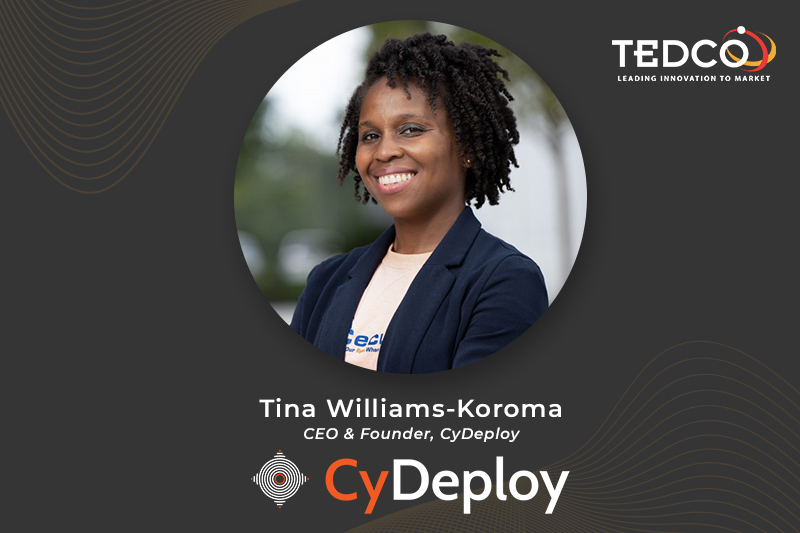 "I know we have a useful product in our CyDeploy system; I also know it's important that I identify partners committed to my company's success—and I found that in TEDCO," said Tina Williams-Koroma, CEO and founder of CyDeploy. "I encourage other female and diverse STEM entreprenuers to seek out TEDCO for funding and advice. You'll want them on your team."
CyDeploy, Inc., based in Baltimore City, is an intelligent, automated testing system that demonstrates how an update will affect an enterprise's system, giving them the control to maintain cybersecurity compliance while avoiding costly workforce delays. 
"We're excited to support CyDeploy, the newest addition to Maryland's growing cybersecurity ecosystem," said Jean-Luc Park, senior director of Social Impact Funds at TEDCO. "We look forward to working with CyDeploy as they bring their product to market, and we encourage other Maryland cybersecurity entrepreneurs to reach out to TEDCO to learn more about our resources."
For entrepreneurs applying for their first investment from TEDCO's Builder Fund, their company must be based in Maryland and led by an economically disadvantaged founder(s). For information on how to access TEDCO's Builder Fund investment application, visit https://www.tedcomd.com/funding/builder-fund.