Columbia
Maryland-based medical device start-up utilizes AI technology
COLUMBIA, Md. (October 27, 2022)—TEDCO, Maryland's economic engine for technology companies, announced today its Builder Fund invested in NanoBioFAB, a Frederick, Md.  technology start-up. TEDCO's Builder Fund invests in and provides executive support to Maryland-based technology companies run by entrepreneurs who demonstrate economic disadvantage.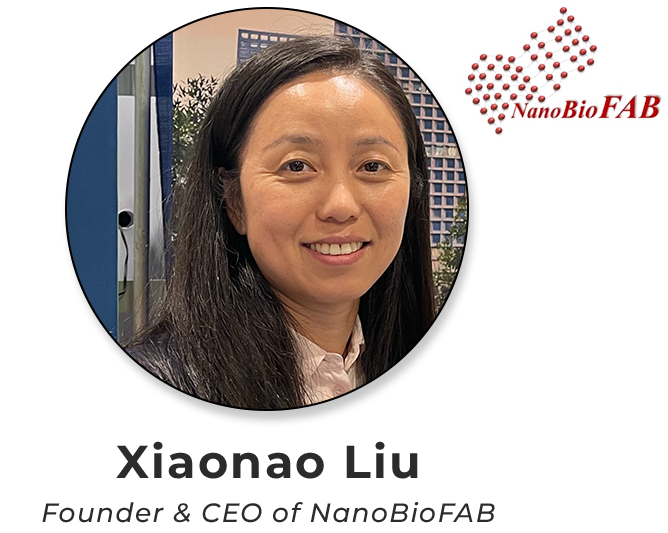 "This investment from the Builder Fund is the latest resource and support that TEDCO has given NanoBioFAB, and we are very appreciative and grateful for their belief in us," said Xiaonao Liu, founder and CEO of NanoBioFAB. "I encourage other founders from diverse backgrounds across Maryland to reach out to TEDCO; they've been invaluable throughout our start-up journey."
NanoBioFAB is a woman-owned medical device manufacturer providing high throughput technology and services to accelerate nanomaterial research & development. NanoBioFAB enables cost-effective innovations and reduces time to market for new sensor products. NanoBioFAB also provides artificial intelligence (AI)-driven smart sensors for telemedicine and personalized healthcare. It employs unique patented technology to ultra-fast high-throughput 3D nano-print and screen nanosensors that can accurately detect tiny amounts of gases that emanate from one's skin and breath, as well as measure pressure, temperature, and humidity. With the coming 5G era, NanoBioFAB's smart sensor will enable more effective personal health management.
NanoBioFAB has engaged in multiple TEDCO programs over the last few years. Those include the SBIR/STTR Proposal Lab, the Rural Business Innovation Initiative (RBII) grant and pre-seed funding, and the Rural and Underserved Business Recovery from Impact of COVID-19 (RUBRIC) Program. 
"TEDCO is committed to elevating innovative but socially and economically disadvantaged founded Maryland technology companies like NanoBioFAB with a variety of programs," said Jean-Luc Park, senior director of TEDCO's Social Impact Funds. "We're glad to support NanoBioFAB's continued growth trajectory with an investment from our Builder Fund, which helps technology startups reach meaningful milestones and become healthy companies."
Funded companies are also provided resources like hands-on executive support, peer-to-peer mentorship/collaboration, and networking opportunities.  
For information on how to access TEDCO's Builder Fund investment application, visit https://www.tedcomd.com/funding/builder-fund.
TEDCO provides funding, resources and connections that early-stage technology and life sciences companies need to thrive in Maryland. For entrepreneurs interested in applying for TEDCO funding opportunities, visit https://www.tedcomd.com/funding.