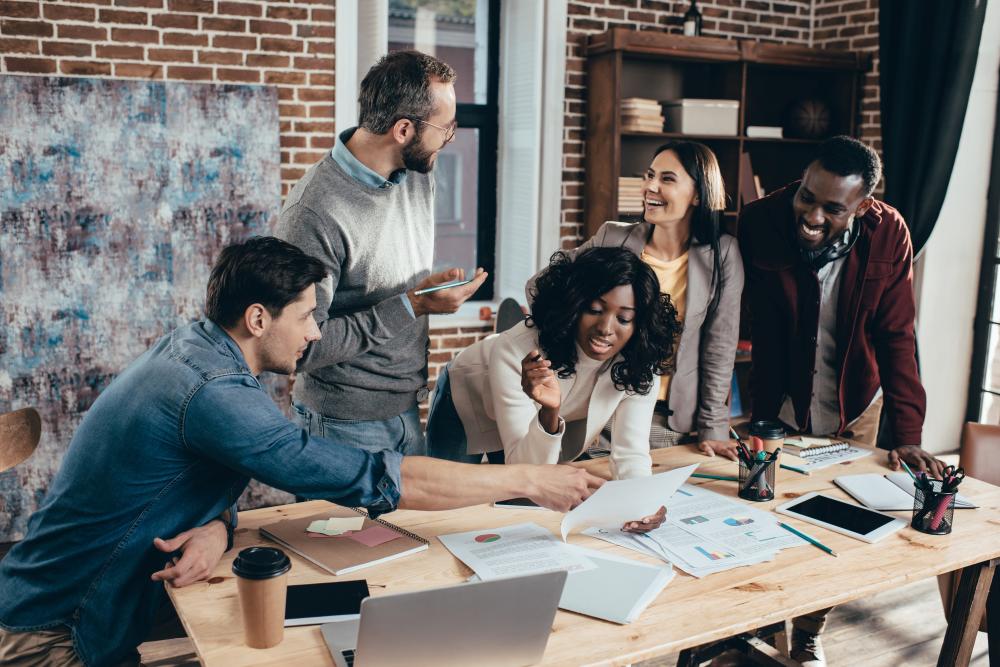 As I write this, TEDCO is a few weeks away from celebrating our 25th anniversary, and I am a few months from my TEDCO 3-year work-aversary.  Over the past 3 years, we have seen a global health pandemic, social and political unrest, and ongoing economic upheaval. It is during such unsettling times that a person's, and collectively, an organization's, true character is revealed. 
I recall being told that true character is the decision one makes when stopped at a red light at 2:00 AM and there are no people or cameras around.  However, I also believe true character is revealed when others are looking and the pressure is on, when pandemics, unrest and upheaval are real; the way individuals and organizations respond to such incidents reveals their character and thus their core values.
From my last discussion on TEDCO's Core Values – accountability, collaboration, integrity, respect and stewardship – I stated:
Core Values serve as a lighthouse to help us individually and collectively navigate difficult times and decisions. Like a lighthouse for ships at sea, they expose dangerous paths and provide safe passage to our destination. That passage may not be the most expedient or easiest and may even involve some risk, but it should avoid things that could cause a shipwreck. The lighthouse serves as the "unwavering guide" that must be followed to avoid disaster.
Over the past few years, our core values have been more than words—they have been our "unwavering guide." Guided by these values, TEDCO's unwavering support to Maryland's entrepreneurial ecosystem is strengthened, allowing us to seek out new ways to support entrepreneurs through the challenges they face.
Every entrepreneur faces 3 challenges – they lack sufficient time, lack access to talent and lack the appropriate level of resources. To address these challenges, our Board approved our T3IME strategy—the Time, Talent, and Treasure Initiative for Maryland's Ecosystem. Afterall, to solve these challenges, Maryland must have an ecosystem that is scaled to a new level of resources, an ecosystem that is stitched together in a means that creates scale and allows us to tell a data-informed story. Through these resources, we will be able to scale, stitch, and story tell, allowing a higher level of stickiness for Maryland-based technology and life science startups. The past few years have shown that, to accomplish our goals, TEDCO must commit to the unwavering guide of our core values.
I get asked what I am most proud of from the past nearly 3 years and that answer is easy – I am most proud of the adoption and manifestation of our core values by our 1TEDCO colleagues – our unwavering guide.  
Before I began in September 2020, I asked our then-leadership team to write an article on one of Core Values; through the leadership of our DEVCOMM team (led by Chief Development & Marketing Officer, Tammi Thomas), we have continued and expanded that discourse, asking various 1TEDCO colleagues to pen their thoughts on our Core Values.  Each conversation emphasizes just how essential it is that we abide by our unwavering guide.
For instance, our DEI & Investment Advisor, Elizabeth Good-Mazhari, uses an athletic analogy to describe accountability:
Just as a training group or a coach helps a first-time marathon runner remain accountable for their race preparation, we believe we can achieve more by working together and openly sharing our goals and results of our efforts as we tackle this issue with a vision of creating a stronger, more equitable innovation ecosystem in Maryland.
Many believe Core Values inhibit innovation. However, our Government Relations and Policy Officer, Mindy Lehman, sees things differently— especially when considering the impact and influences of accountability:
…When done right, rather than dragging down innovation, accountability can help inspire and ensure it. Accountability also creates trust and ultimately tells the story of how TEDCO achieves its mission.
Former Maryland Stem Cell Research (MSCRF) Commission Executive Director, Dan Gincel, explains that accountability leads to greater impact over time:
Accountability as a core value is the continuous improvements of our actions to advance our programs and create value.
Maryland Innovation Initiative (MII) Program Manager, Griffin St Louis, demonstrates the critical nature of collaboration:
Whether the shared intent is achieving victory, organizing activities, creating flawless productions, or performing beautiful music, I have found that commitment to building a strong team dynamic is the cornerstone of collaboration.
Collaboration is a key value to TEDCO, but it is the very foundation of the MII program. MII Executive Director, Dr. Arti Santhanam, explains the importance of collaboration to the MII program and Maryland's overall innovation ecosystem:
Ubuntu is a Zulu word that Archbishop Desmond Tutu defined as "My humanity is caught up, is inextricably bound up, in what is yours." In the simplest terms, ubuntu means, "I am because we are."
Ubuntu is much more than just a word—it's a philosophy, a world view, and a framework for how we relate to and work with others.
Through collaboration, we can overcome challenges, find solutions, and empower Maryland's entrepreneurs to transform their ideas into vital businesses that will expand wealth and improve quality of life for our state's residents and beyond.
Tammi uses integrity to highlight the work of our Finance & Operations team, led by the Chief Finance and Operations Officer, Terry Rauh:
Integrity is valued across TEDCO; it's absolutely essential for the team leading the internal control, business operations and accounting for an organization. I appreciate the opportunity to work at an organization that is very clear about what integrity looks like at TEDCO.
Living these Core Values requires a daily reaffirmation to them; this is expressed by Chief Federal Engagement Officer, Stephen Auvil:
To be a person of integrity, you must also consistently be honest and truthful in your words and your actions—all the time, not just some of the time or when it's convenient. Consistency in words and actions can only be achieved when there is an underlying, ingrained belief in a core value that subconsciously guides your thinking.
By unfailingly demonstrating this core value, you incorporate it into your character. This is not something that comes easily but rather requires conscious effort. In time, it becomes second nature.
Those actions, described by Stephen have consequences, and our Chief Investment Officer, Jack Miner, relates that using integrity in investment decision-making allows us to deliver "bad" news:
That means we will see people who we said no to, so our team must have enough integrity at work that we can live and play in this community. We must be brave enough to make the right call—to say "Let's roll" when it is time to roll.
Even our newer members of our 1TEDCO team see the importance of our values, in particular respect, as Content Marketing & Communications Coordinator, Rachael Kalinyak, discusses:
Many people forget that respect is more than just a word—it's an action; it's appreciating another's uniqueness and individuality; it's authentically acknowledging someone for who they are and what they bring to the table; it's diversifying environments to ensure individuals of all backgrounds can share their perspectives and knowledge.
We are blessed with words from previous leaders who have moved on to other great opportunities, previous leaders such as our former Government Affairs Officer, Jody Sprinkle, who discusses stewardship:
Good stewardship also means openness to stakeholder input. It means that we are caretakers of the relationships with our collaborators in the ecosystem. We use that stewardship to strengthen the dialogue with our partners to evolve our programs to be more responsive to the challenges in a modern economy. We build on that stewardship to cultivate a reputation for an unfailing dedication to our mission.
Previously, I closed my discussion of Core Values by explaining:
Our five core values, along with innovation and smart risk-taking, will shape our decision-making; define the "TEDCO experience" for ourselves and our stakeholders; and determine how we invest, support, and sustain a culture of values-based innovation and risk-taking for all Marylanders.
However, I believe Tammi states it better: 
The gold nuggets of innovation can be found at the intersection of diverse viewpoints.
In the end, Marketing & Communications Associate Director, Cassy Haber, sums it up perfectly:
An organization's core values are only worth the ink they're printed on if we don't instill them in our day-to-day work and life.
These essential values have been our unwavering guide for the last 25 years, and I'm sure they will continue to guide us through 25 more.