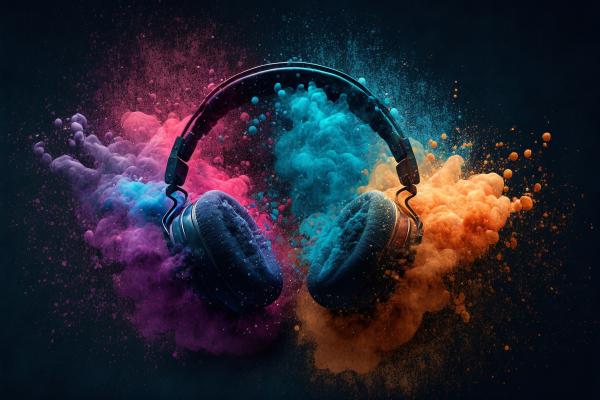 In a previous article on music, I discussed that music is as fundamental to our being as any of our senses:
Not only do we hear music, but we can feel it; music touches us, reminding us of moments, evoking different tastes or smells; music provokes imagery, words being used to paint a picture the writer/singer wishes to convey while notes are strung together to evoke emotions, creating fear, happiness, loss, regret, and even guilt.
Those emotions, those sensory stimulations, come from the words (the lyrics) and the rhythms attached to those lyrics. Who doesn't like to play "Name That Tune" to your favorite song and can name it with just 2-3 "beats?" How many of us know certain lines to songs but can't name the actual title to the song? Together a song's lyrics and rhythms create a memory that can last a lifetime.
And to that last point, I also wrote:
In addition to being a cultural unifier, music is also one of the most personal choices one can make. … it's a choice we make that we don't need to share with anyone, a choice without consequences other than the emotions and memories carried with our selection. And, when we do share, we reveal a little part of ourselves including our journey, goals and personality.
As I write this, I am reviewing my own playlists. I have found that my musical language reflects an array of times (70s, 80s, 90s, 00s), genres (R&B, Pop, HipHop/Rap, Dance, Gospel, Jazz, soundtracks, Classical), artists (Stevie, Prince, Whitney, Luther) and emotions (love, excitement, remembrance). Overall, my preferences in music reveal pieces of my journey through time, the emotions carried, places seen and events experienced.
The previous article discussed the music choices of our leadership team (ELT) at TEDCO. TEDCO recently held a staff retreat, led by Tim Lavery of Wrench & Socket where we asked participants to select a song to create the 1TEDCO playlist. And thus,
The songs we select on our playlist are reflective of our individual journey.
The songs are about joy, searching for hope, celebration, funny, desire, overcoming the obstacles of life, personal testimonies of empowerment, enduring loss and embracing love.
Imagine there's no countries It isn't hard to do Nothing to kill or die for And no religion, too
Imagine all the people Livin' life in peace
Imagine by John Lennon
'Cause, baby, there ain't no mountain high enough Ain't no valley low enough Ain't no river wide enough To keep me from getting to you, babe
Ain't No Mountain by Diana Ross
No, you can't always get what you want You can't always get what you want You can't always get what you want But if you try sometime you'll find You get what you need
You Can't Always Get What You Want by Rolling Stones
I get knocked down, but I get up again You are never gonna keep me down I get knocked down, but I get up again You are never gonna keep me down I get knocked down, but I get up again You are never gonna keep me down I get knocked down, but I get up again You are never gonna keep me down
Tubthumping by Chumbawamba
Yes, some things never change Like the feel of your hand in mine Some things stay the same Like how we get along just fine
Frozen II Soundtrack
I fly with the stars in the skies I am no longer trying to survive I believe that life is a prize But to live doesn't mean you're alive Don't worry 'bout me and who I fire I get what I desire, it's my empire And yes, I call the shots, I am the umpire I sprinkle holy water upon a vampire In this very moment, I'm king In this very moment, I slayed Goliath with a sling
Moment 4 Life by Nicki Minaj
If you don't like The world you're living in Take a look around At least you got friends You see I called my old lady For a friendly word She picked up the phone Dropped it on the floor Ah, ah is all I heard
Let's Go Crazy by Prince
You gotta be You gotta be bad, you gotta be bold, you gotta be wiser You gotta be hard, you gotta be tough, you gotta be stronger You gotta be cool, you gotta be calm, you gotta stay together All I know, all I know, love will save the day
You Gotta Be by Des'Ree
And now the playlist, the 1TEDCO member in parenthesis:
And I close as I closed the previous article, but with a small edit:
This should give our ecosystem collaborators a small glimpse into the journey of our 1TEDCO team. I am asking those collaborators to add to the "Team Playlist" so that it becomes the "Ecosystem Playlist," that reflects how our individual journeys are merging to create a single beautiful voice for the State of Maryland.
Sometimes in our lives We all have pain We all have sorrow
But if we are wise We know that there's always tomorrow
Lean on me When you're not strong And I'll be your friend I'll help you carry on...
For it won't be long Till I'm gonna need somebody to lean on
Please swallow your pride If I have things you need to borrow
For no one can fill Those of your needs that you won't let show
You just call on me brother when you need a hand We all need somebody to lean on
I just might have a problem that you'll understand We all need somebody to lean on.
Lean on Me – Bill Withers